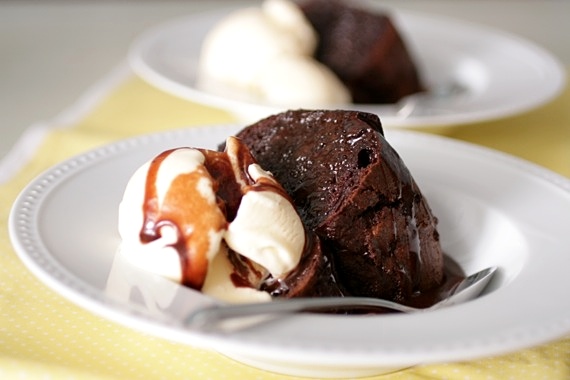 **Disclaimer: I am NOT one of those women who believes any sort of food, herbal remedy or old wives' trick can induce labor. I fully believe my little girl will come when she is good and ready, thus making the idea of this cake completely bogus in principal, but nevertheless, good for a chuckle.
Evening primrose oil, castor oil, spicy foods, raspberry leaf tea…I've heard of just about every trick out there to induce labor. Of course I believe they're all complete horse pucky. So naturally, when I was reading on a popular baby discussion forum about all these women baking and eating these so-called "labor cakes" to induce labor, I laughed out loud. Of all the ridiculous notions….yeah sure, a boxed mix chocolate cake is going to kick-start my labor…riiiight. However, I sat there and got to thinking about a warm, gooey, chocolaty cake fresh from the oven and just couldn't resist. While I don't believe any amount of chocolate will convince Cassidy to get a move on, any excuse to shove my face full of cake is good enough for me. So I made myself a labor cake. Following the recipe exactly (box mix and all). And it was dang good. Did Cassidy come? Nope. Did I enjoy my cake and go to bed with a smile on my face? You bet.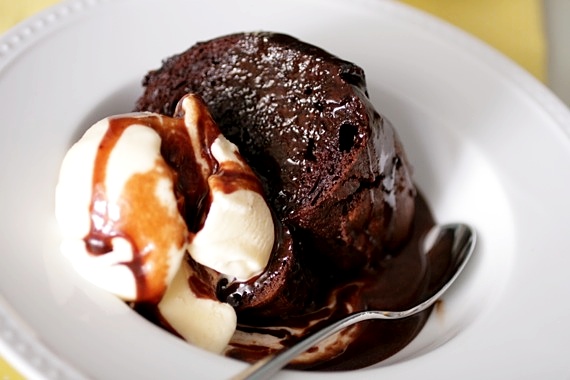 "Labor Cake" (A dressed up chocolate cake)
1 box Devil's Food Cake mix
1 small package chocolate pudding mix
1 cup sour cream
3 eggs
1 1/3 cups water
1/2 vegetable oil
1 12-ounce package mini chocolate chips
Mix all ingredients in a large bowl and pour into a greased bundt pan. Bake at 350 degrees for 45-55 minutes, until a toothpick inserted comes out clean.
To make mine extra chocolaty, I topped it with my grandmother's fudge icing:
Nana's Fudge Icing (adapted to be a thin glaze rather than a thick frosting)
1/2 cup cocoa powder
1 1/2 cups sugar
3/4 cup (1 1/2 sticks) butter
1/2 cup milk
1/2 teaspoon salt
1 teaspoon vanilla
Heat all ingredients except vanilla in a small saucepan over medium heat. Stir until mixture is melted and beginning to thicken. Remove from heat and add vanilla. Let sit for about 5 minutes before serving.
Cake recipe source: www.justmommies.com