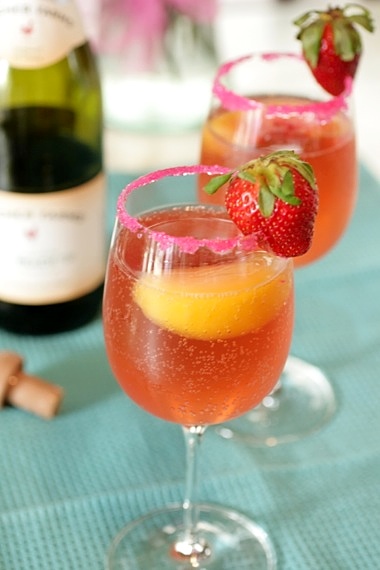 Guess what? It's time for another virtual baby shower! Yippee! (I never get tired of these!) This time, it's for my good friend Courtney of Cook Like A Champion.  My friend Josie of Pink Parsley is hosting this time and I'm SO glad she asked me to participate! Courtney was sweet enough to take part in my own virtual baby shower in November (remember? She made me that awesome Opera cake!) and I'm thrilled to be a part of her's today! I feel so much closer to her since we both got pregnant around the same time and have kept up with each other throughout our pregnancies. I remember when she first told me she and Eric were expecting- I was SO excited for them!  She's having a sweet baby girl in March (so soon!) and I know exactly how she feels right about now- excited, nervous and READY! I know she and Eric are going to be amazing parents and this little girl is certainly lucky to have them! I can just imagine all the mother/daughter baking that will be happening in their kitchen! How sweet!
When I was in my last weeks of pregnancy, all I wanted was a cocktail. Something cold, fruity and refreshing…unfortunately, I couldn't very well go out and order myself a margarita or anything (boo.), so when I found a bottle of sparkling peach juice (non alcoholic) in a pretty champagne bottle at Target, I decided to make myself a little mocktail. I served it in a pretty stemmed glass with a peach slice and strawberries. Even though there was no alcohol in it, it was the BEST thing I had tasted in weeks! I sat there and drank half the bottle by myself! So refreshing and fruity! I decided I would make the same thing for Courtney since I'm sure she could use a little mocktail herself! This time I added a little blood orange Italian soda to it and made it even better! YUM! So here you go, Courtney- here's a nice, tall, fizzy drink to relax you! Cheers and congratulations!
Virgin Peach-Blood Orange Sangrias
1 part blood orange Italian soda (any brand will do- I used the Archer Farms brand from Target)
2 parts sparkling peach juice (also Archer Farms, found at Target. If you can't get this, sparkling apple cider or sparkling grape juice will work great as well)
frozen or fresh peach slices
pink sugar and strawberries for garnish
Slightly wet the rim of a stemmed glass and dip in pink sugar. Place a peach slice in glass and pour in peach juice and blood orange soda. Garnish with a strawberry. Serve cold.
Recipe source: Sing For Your Supper original
Be sure and head over to Josie AND Courtney's blogs to check out all the other beautiful dishes and sweets our friends put together.