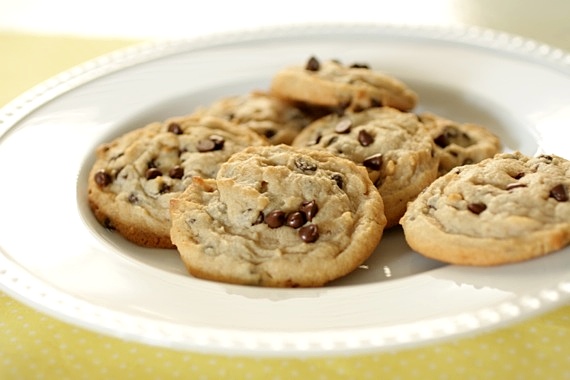 If you're looking for a perfect peanut butter chocolate chip cookie, look no further. This one is amazing. Chewy, soft, slightly crisp around the edges with the perfect ratio of peanut butter to chocolate. I love them. I made two batches of dough so I could have plenty leftover to freeze after the baby came. Lucky I did, because these tasted SO good after a long day of diapers, feedings, burping and rocking. In fact, I still have a little bit left in my freezer right now…we may have to bake some up tonight! YUM!
Peanut Butter Chocolate Chip Cookies
1/2 cup (1 stick) butter
1/4 cup sugar
1/2 cup brown sugar
1 egg
1 teaspoon vanilla
3/4 cup peanut butter
1 cup flour
1 teaspoon baking powder
1/2 teaspoon salt
1 1/4 cups semi-sweet chocolate chips (I used mini-sized)
Preheat oven to 375 degrees.
In a large mixing bowl, cream butter and sugar until light and fluffy. Add the egg, vanilla, and peanut butter. Beat until smooth. Mix in the flour, baking powder and salt. Stir in the chocolate chips.
Drop spoonfuls of dough onto a cookie sheet. Bake for 10-12 minutes, or until lightly browned. Store in an airtight container at room temperature. Makes approximately 30 cookies.
Recipe source: The Pastry Affair