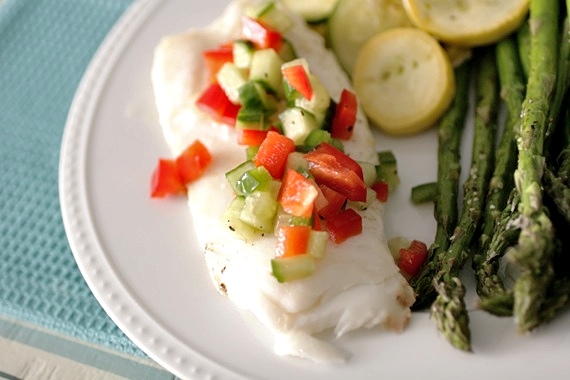 I feel like I live in my rocking chair these days. It's where I feed, burp and rock Cassidy to sleep, so obviously, it gets used a LOT. Some days I feel like I don't get out of that chair. Luckily, it's in the living room so I can at least watch TV while I'm rocking. I pretty much keep it on the Cooking Channel, Travel Channel and History Channel. A couple of days ago I was watching a show on the Cooking Channel and the chef cooked fish and vegetables in a pouch in the oven. I know this is done a lot, but for some reason I never think of this. So last night I tried it. I found some beautiful Alaskan Cod at the grocery store, seasoned it very simply with olive oil, salt, pepper and lemon, and baked it with zucchini and squash. I took it a step further by topping it with a cucumber/pepper relish. What a fantastic meal! Not only that, but it came together in less than 45 minutes total! Perfect for a busy mom with a very slim window of time to get dinner cooked! Make this! You'll love it!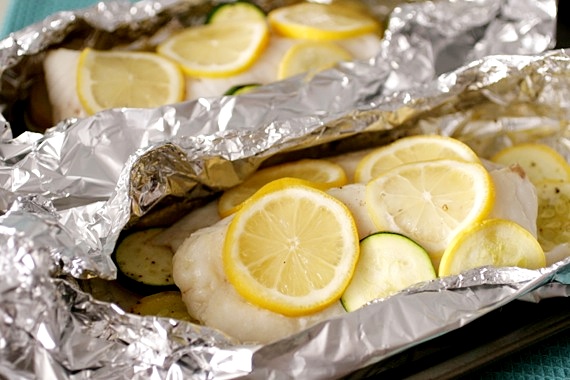 Baked Alaskan Cod with Cucumber Relish
2 filets of Alaskan Cod (or any white fish you prefer)
1 zucchini, thinly sliced
1 squash, thinly sliced
1 lemon, thinly sliced
salt
pepper
olive oil
Cucumber Relish
1/2 a Hothouse (seedless) cucumber, diced (you can use a regular cucumber, you'll just need to peel it and deseed it)
1/2 a red bell pepper, diced
1 jalapeño pepper, seeded and diced
1/4 teaspoon salt
dash pepper
Make the relish: toss cucumber, red pepper, jalapeño pepper and salt and pepper together in a small bowl. Refrigerate until needed.
Preheat the oven to 350 degrees. Place zucchini and squash in two large pieces of greased foil (large enough to fit the vegetables and fish when you make a pouch). Season with salt and pepper. Season the fish with olive oil, salt, and pepper and place on top of the vegetables. Place 2 or 3 lemon slices on top of the fish. Fold the foil down on the top and sides to make a pouch (be sure it's sealed up tight on the sides so no liquid escapes during cooking). Place on a baking sheet and cook for 20 minutes until fish is flaky. Top with the cucumber relish. Serves 2.
Recipe source: Sing For Your Supper original