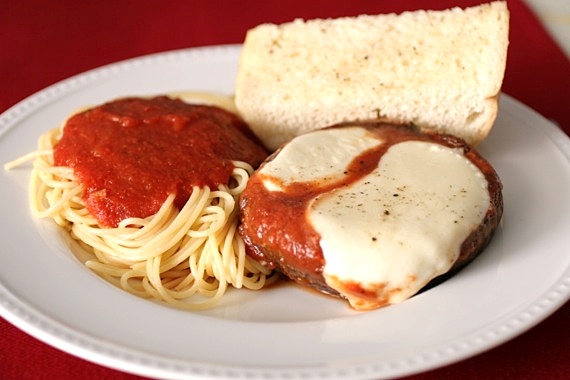 We're all familiar with chicken parmesan- a breaded chicken cutlet topped with marinara sauce and mozzarella cheese. A lot of people's favorite "Italian" dish. I've never been much of a fan, for whatever reason. This recipe, however, I'm a HUGE fan of! It's basically just a vegetarian version of chicken parm; and it's soooo much better, in my opinion. I love mushrooms any way I can get them and when they're topped with marinara sauce and fresh mozzarella cheese??? Sign me up! The best part about this recipe? It's ready for the table in about 30 minutes. You can't beat that!
Portobello Mushroom Parmesan
4 portobello mushrooms, cleaned and stems removed
salt
pepper
1 cup marinara sauce (homemade or store-bought)
fresh mozzarella cheese, sliced in 1/4 thick slices (shredded is fine too)
grated parmesan cheese
Preheat the oven to 400 degrees. Season mushrooms with salt and pepper. Spread 1/2 cup of the marinara sauce on the bottom of a 9 by 13-inch baking dish. Place the mushrooms top-down on top of the marinara sauce and top with the remaining marinara sauce. Sprinkle with the parmesan cheese and bake about 15 minutes. Top with fresh mozzarella and return to oven for another 10-15 minutes until cheese is nicely melted. Serves 4.
Recipe source: heavily adapted from Giada De Laurentiis