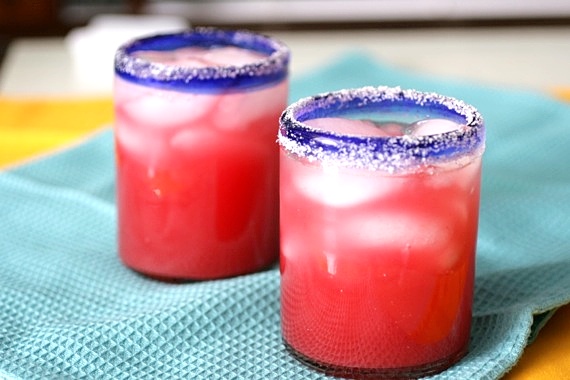 Oh, how I've missed margaritas over the past 9+ months. Anytime we'd go to a Mexican restaurant and Joel would order one, I'd stare at it longingly across the table as I sipped my lousy, boring water (no matter how many limes you add to your water – it won't taste like a margarita). But now, my beloved margarita has come back into my life and all is well again! When I found some gorgeous looking blood oranges at the store recently, I knew I had to make margaritas. And my friend Shawnda, the queen of margaritas, has the perfect recipe! If you've never tried blood oranges, you're missing out; their deep, red juice is SO sweet and bright- it almost has a floral taste to it. Add that to a margarita and you've got one lip-smacking cocktail! Cheers!
Blood Orange Margaritas
3 ounces tequila
2 ounces orange liqueur, such as Grand Marnier or Triple Sec
2 ounces fresh-squeezed lime juice
4 ounces fresh-squeezed blood orange juice (3-4 oranges)
2 tablespoons confectioners' sugar, sifted
Stir together tequila, orange liqueur, lime, orange juices and confectioners' sugar. Check for sweetness and add additional sugar if desired. Pour over two small glasses of ice rimmed with salt. Serves 2.
Recipe source: barely adapted from Confections of a Foodie Bride