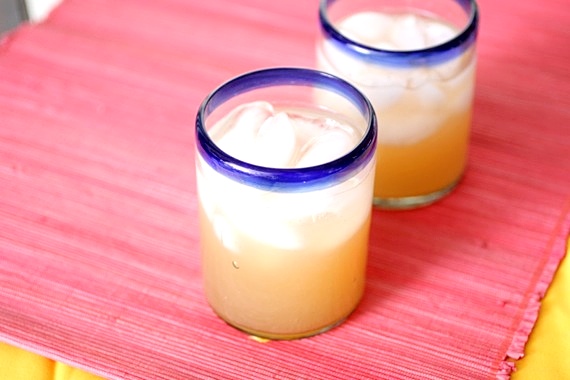 Happy Friday! YAY! What better way to start the weekend off than with a cold, tart grapefruit margarita! I know the picture is a little boring, but trust me, these margaritas are anything but! After a long week of taking care of Cassidy, keeping the house clean in case they decide to show it, then having to grab everything and get out of the house on a moment's notice for showings (10 showings so far, no offers yet…keep praying!)…all I need is one of these babies and I'm GOOD. I happen to love salt with my grapefruit, so the combination of the tequila with the grapefruit, lime and salty rim is just perfect in my book. Like all excellent margaritas I make, this one comes from my friend Shawnda, aka: the Margarita Queen. So, my best advice to you this weekend: whip up one of these margaritas, grill some fajitas or burgers, and sit back and enjoy the weekend!
Grapefruit Margaritas
3 ounces tequila
2 ounces orange liqueur, such as Grand Marnier or Triple Sec
2 ounces fresh-squeezed lime juice
6 ounces fresh-squeezed grapefruit juice (1 large grapefruit)
blue agave nectar, to taste
salt for rim, optional
Stir together tequila, orange liqueur, lime juice, grapefruit juice and agave nectar. Check for sweetness and add additional agave if desired. Pour over two small glasses of ice rimmed with salt. Serves 2.
Recipe source: barely adapted from Confections of a Foodie Bride