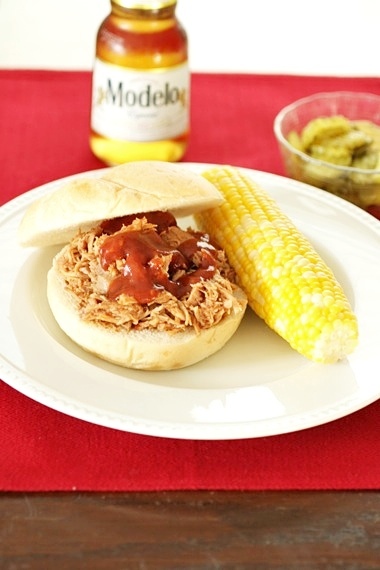 With Memorial Day just around the corner, you're going to need a knock-out recipe to please a crowd. I know grilling is a popular option this time of year, but barbecue is our food of choice for big get togethers. You just can't beat a pile of sweet, smoky meat on a toasty bun with deviled eggs, potato salad and a big side of dill pickles! Mmm, mmm! This pork is insanely easy- just throw it in the crockpot with a little salt, pepper and barbecue sauce. Yep, that's it. And it's gooooood. Give it a try for your Memorial Day shindig this year! Don't forget the beer!
Crockpot Pulled Pork
3-4 pounds pork butt or pork loin
1/2 cup Texas style barbecue sauce (thick, sweet and a little spicy!)
1/2 teaspoon salt
1/2 teaspoon pepper
Put the pork in the crockpot and season with salt and pepper. Pour the barbecue sauce over and cook on high for 4-6 hours or low for 8-10. Shred the meat with two forks and serve on a toasted bun. Serves 4-6.
Recipe source: Sing For Your Supper original