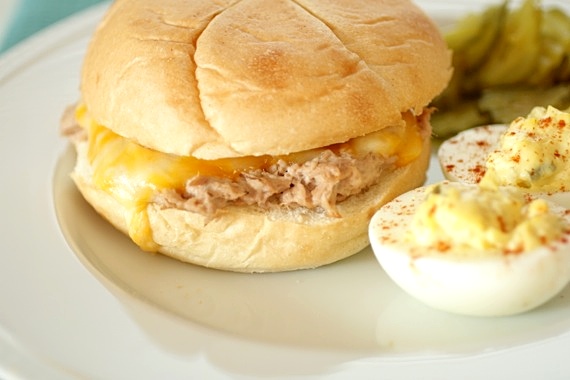 Until just recently, I had never had a tuna melt. Boy, was I missing out! Anything topped with gooey, melty cheese is a winner in my book; especially if it happens to be light, flavorful tuna salad! I use the word "light" because this tuna salad isn't swimming in mayo- I use a combination of mayo and Greek yogurt. Not only is it better for you, it adds an extra tangy flavor that I just love. Oh, and a big bonus: this dinner came together in under 10 minutes. WIN!
Tuna Melts
1 12-ounce can tuna in water, drained
1 1/2 tablespoons mayonnaise
1 1/2 tablespoons Greek yogurt
splash lemon juice
salt
pepper
Kaiser rolls or Texas toast
butter
sliced cheddar cheese
Mix together the first six ingredients in a small bowl. Set aside.
Butter both sides of the Kaiser rolls (or whatever bread you're using) and place on a baking sheet. Toast in a 350 degree oven for about 5 minutes, until the butter is melted. Spoon the tuna on two slices of the rolls, top with a slice of cheese and place back in the oven until cheese melts (about 5 minutes). Place the tops of the rolls on top and serve. Serves 2-3.
Recipe source: Sing For Your Supper