Summertime = grilling. Period. There's nothing better than spending all day out by the pool, drinking, snacking and grilling up juicy burgers! Joel and I have been trying new and different burger recipes lately (speaking of which, I can't wait to try these bad boys), and these are our favorites so far. Some of my very favorite flavors are sauteed mushrooms, caramelized onions and blue cheese…so why not put them all together on a burger? YUM! We gobbled these up and couldn't wait for leftovers the next day! Grilling is one of the best parts about summer…especially awesome burgers like these!
Blue Cheese Mushroom Burgers
4 beef patties, 1/4-1/3 pound each
4 hamburger buns
1 large yellow onion, very thinly sliced
2 cups sliced button mushrooms
2 ounces blue cheese
2 teaspoons worcestershire sauce
salt
peper
olive oil
1/4 teaspoon sugar
splash red wine
dijon mustard
Preheat the grill to high heat. Grill the patties to desired doneness (about 5 minutes on each side).
Add a little olive oil to a skillet over medium-low heat, cook the onions for about 15 minutes, stirring occasionally. Add the 1/4 teaspoon sugar, salt and pepper. Continue cooking until the onions are translucent and caramelized. Set aside.
In a skillet over medium-high heat, cook the mushrooms, worcestershire sauce, red wine, and pepper until mushrooms are softened.
To assemble: Spread the burger buns with the dijon mustard. Place the patties on the buns and top with onions, mushrooms and a generous sprinkling of blue cheese. Serves 4.
Recipe source: Sing For Your Supper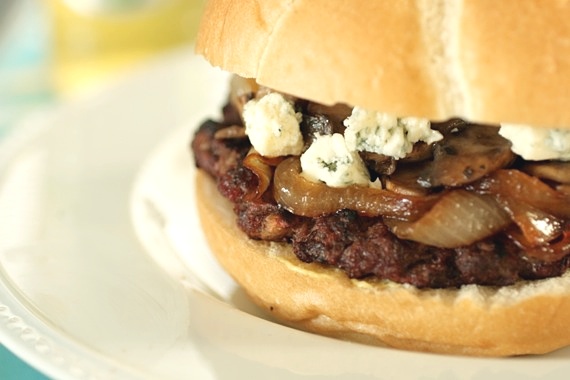 **Keep a lookout- I'll be guest blogging this recipe over at Oven Love soon!