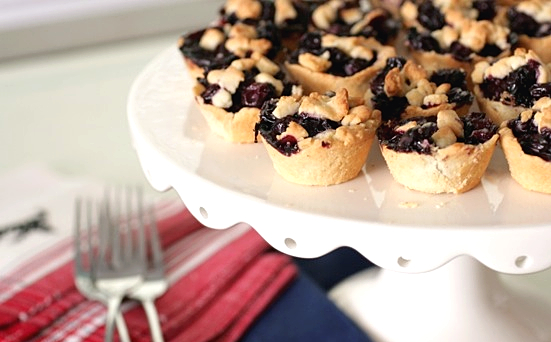 It's a dreary, rainy day and there's not much going on. What do you do? You get in the kitchen and bake baby blueberry pies!
But baking baby blueberry pies isn't nearly as much fun without a special helper…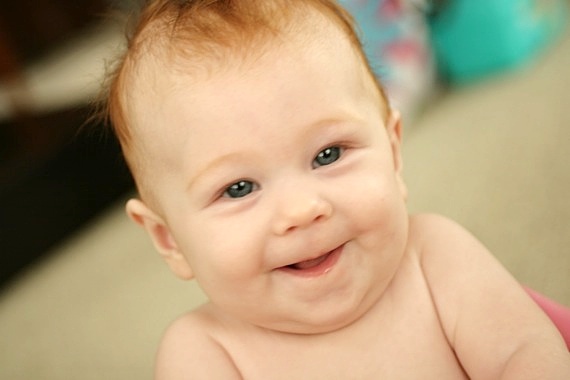 Sure, she may only sit there and drool, but she's excellent company in the kitchen! I couldn't have made these without her! 😉
Technically, these aren't really 'pies' at all. I used my favorite tart crust from Dorie Greenspan (more like a shortbread… Mmm!) instead of a standard pie crust. The combination of those tart, juicy blueberries with the crumbly, salty-sweet crust is outstanding! These were knock-out! If you're looking for the perfect bite-sized dessert for your 4th of July get-together, I highly recommend these! Kids and adults alike are SURE to love 'em!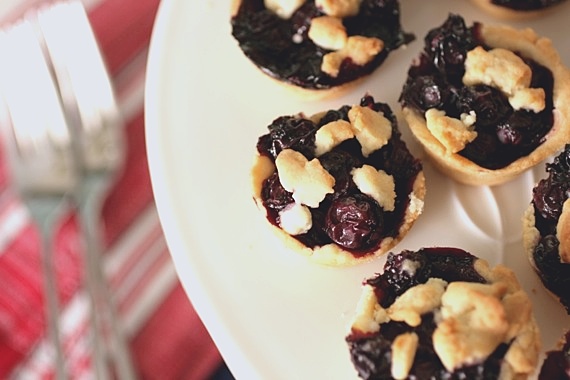 Baby Blueberry Pies
For the Filling:
1 1/2 pints blueberries, rinsed
1/3 cup sugar
juice of one lemon
pinch of salt
1 teaspoon flour
1 teaspoon cornstarch
Toss the blueberries with the sugar, lemon, salt, flour and cornstarch. Allow to sit at room temperature for 5 minutes.
For the Crust:
1 1/2 cups all-purpose flour
1/2 cup confectioners' sugar
1/4 teaspoon salt
1 stick plus 1 tablespoon very cold unsalted butter, cut into small pieces
1 large egg yolk

Put the flour, confectioners' sugar and salt in the bowl of a food processor and pulse a couple of times to combine.  Scatter the pieces of butter over the dry ingredients and pulse until the butter is cut in coarsely – you'll have pieces the size of oatmeal flakes and pea-size pieces.  Stir the egg, just to break it up, and add it a little at a time, pulsing after each addition.  When the egg is in, process in long pulses – about 10 seconds each – until the dough, which will look granular soon after the egg is added, forms clumps and curds. Turn the dough out onto a work surface and knead very gently, just to incorporate any dry ingredients that didn't quite mix in.
Press the dough into the cups of 2 mini muffin pans (24 muffin cups total). Prick with a fork and bake at 375 degrees for 5-7 minutes.
Place some of the blueberry filling in each muffin cup (about 5-6 blueberries in each) and crumble any leftover dough over the tops. Bake for 20 minutes, until the crusts are light brown. Makes 24 baby pies.
Recipe source: Sing For Your Supper original (crust from Dorie Greenspan)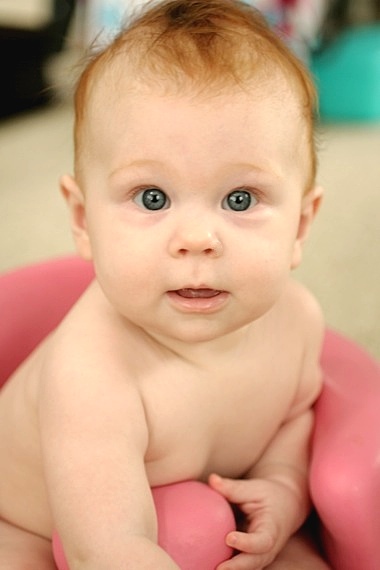 And for good measure, here's one more of my sweet little helper… 🙂