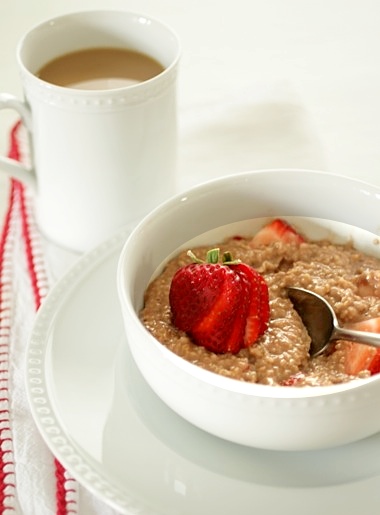 I love oatmeal. I mean, really, really love it. When I was recovering in the hospital after having Cassidy, I ordered oatmeal with brown sugar every single morning for my breakfast. Growing up, my favorite was always the instant peaches and cream variety, and chances are, 9 times out of 10, you'll find the little envelopes of instant oatmeal in my pantry. 🙂 However, my newest breakfast obsession is the quick-cooking steel cut oats. I love them because they only take 5 minutes to cook and I can stir in anything I want to flavor it- fruit, chocolate, brown sugar, maple syrup…nutella. 😉
Nutella for breakfast is always a good idea; especially when it's stirred into hot oatmeal and topped with fresh strawberries. THIS is my kind of breakfast!
Strawberry Nutella Oatmeal
3 cups water
1 cup low-fat milk
1 cup steel-cut oats**
1 tablespoon butter
1/2 teaspoon salt
2 tablespoons sugar
4 tablespoons Nutella
Fresh sliced strawberries
Combine the water and milk in a medium saucepan.  Bring to a simmer.
Stir the oats into the simmering liquid.  Reduce the heat to medium-low and simmer gently until the mixture thickens, about 5 minutes.  Stir in the butter, salt, and sugar.   Remove from the heat and let stand 2 minutes before serving.
Portion the oatmeal into serving bowls.  Top each serving with 1 tablespoon of Nutella and swirl gently into the oatmeal with a knife or a spoon.  Garnish each serving with a handful of sliced strawberries.  Serve immediately. Serves 4.
**I use the quick cooking steel-cut oats, which take only around 5 minutes to cook, but if you can't find them at your grocery store, use regular steel-cut oats (or just plain old fashioned oatmeal, if steel-cut isn't your thing) and cook for about 20 minutes.
Recipe source: adapted from Annie's Eats