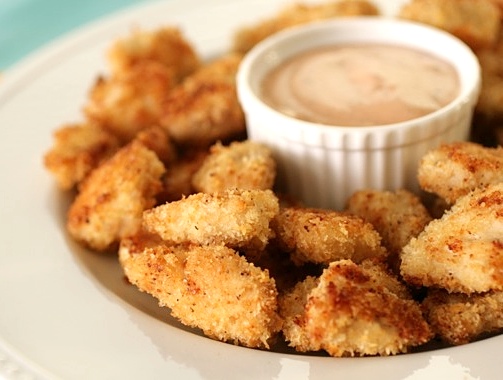 Mmm, Chick-fil-a. We ALL love it, right? The sweet tea, the chicken sandwiches, the waffle fries…but most importantly, the nuggets. Those sweet, tender little bites of fried chicken heaven.
And now, thanks to this recipe, I hold the power. I can have Chick-fil-a on a SUNDAY if I want. Victory is mine, Chick-fil-a!
Now before you get too excited, let me tell you- these are not totally identical to the Chick-fil-a nuggets. They ARE baked, after all, where Chick-fil-a's are fried. But, the secret ingredient to making them as close to the real deal as possible? Powdered sugar. Yep, powdered sugar. And it works! So the next time you have a major hankering for those golden, sweet nuggets but don't want all the fat and calories; just whip up a batch of these babies. Guaranteed to satisfy even the staunchest of Chick-fil-a nugget connoisseurs.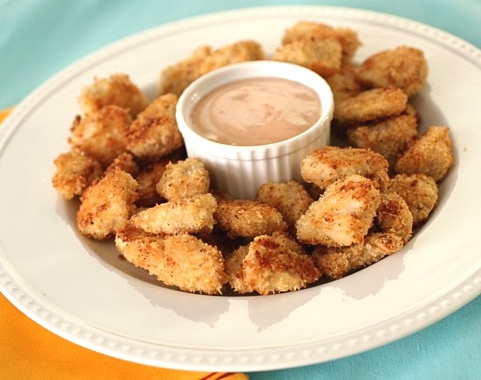 Baked Chick-fil-a Style Chicken Nuggets
2 large boneless, skinless chicken breasts, cut into 1 inch cubes
1/3 cup panko breadcrumbs (these are Japanese style breadcrumbs and can be found at any grocery store next to the regular breadcrumbs)
1/4 cup regular breadcrumbs
1/2 – 1 teaspoon salt (depending on your tastes)
1/2 pepper
1 teaspoon powdered sugar
olive oil
butter spray
Preheat oven to 425 degrees. Grease a sheet pan with olive oil. Combine the panko, regular breadcrumbs, salt, pepper, and powdered sugar in a pie plate or large plate. Drizzle some olive oil (about 1/4 cup) in another plate.
Toss the chicken pieces in the olive oil, then dredge them in the breadcrumb mixture, making sure each piece is coated evenly. Place the nuggets on the oiled baking sheet and spray the tops with butter spray. Bake for about 12-15 minutes, until golden brown. Serves 2-4.
Recipe source: Sing For Your Supper original