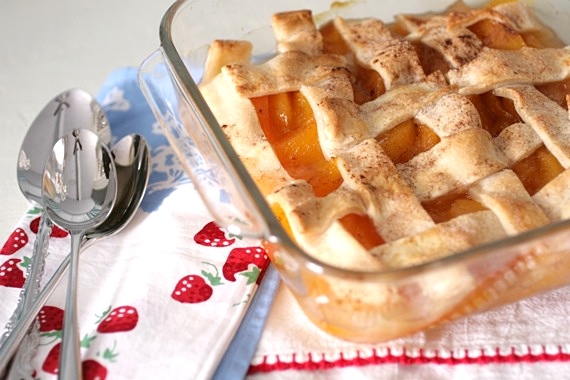 See that? That, my dear readers, is THE peach cobbler. The dessert of the gods. Baba's peach cobbler.
It's taken me 28 years to get here, but I have finally made a Baba peach cobbler. What's so special about it, you ask? Not the golden, ripe, juicy peaches, or the flaky, sugary crust…to us, it's special because all it takes is one bite and Baba's there with us. That's powerful food.
This is what we consider a "Southern" cobbler. A pie crust topping instead of a biscuit one. Except in my family, we make ours double-decker. Two layers of peaches and pie crust (and butter!). If you're a biscuit-topped cobbler fan, I encourage you to try it Southern-style! You'll love it!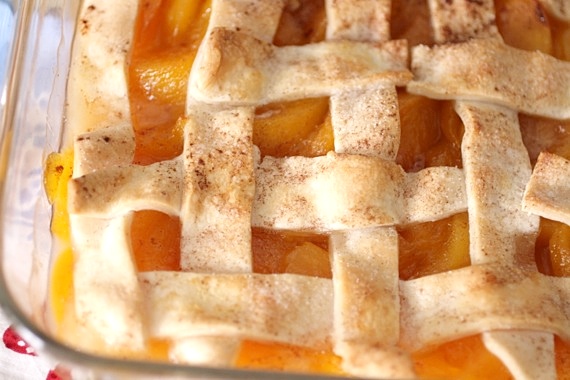 As you can see, my lattice skills are….none. To tell the truth, I'm too impatient to mess with it. Rest assured though, it doesn't affect the taste. 😉
Baba's Southern Peach Cobbler
4 cups peaches, peeled and sliced
1 cup sugar
squirt fresh lemon juice
3 cups flour
1 cup shortening, very cold and cut into small cubes
1/2 teaspoon salt
3 to 4 tablespoons ice water
For Cinnamon-Sugar Mixture:
3 tablespoons white sugar
1 teaspoon ground cinnamon
cold butter, for dotting crust
Preheat oven to 400 degrees.
Place the sliced peaches in a large pot and add just enough water to cover. Stir in the 1 cup sugar and lemon juice and bring to a boil. Reduce heat to low and simmer, uncovered, until peaches are soft and most of the water has cooked down; about 20 minutes. Remove peaches with a slotted spoon and reserve 1/2 cup juice.
To make the crust: Using a food processor or pastry cutter (or my personal preference, the fingers), blend the flour, salt and shortening together until texture resembles oatmeal or small peas. Slowly add the ice water a little at a time until dough just comes together. Refrigerate until needed.
Turn out dough onto a large floured surface and roll out to about 1/4 inch thickness. Cut into long strips.
To assemble: place half of the peaches and juice in the baking dish. Top with half of the strips in a lattice (criss-cross) pattern. Dot with butter and sprinkle with half of the cinnamon-sugar. Bake for about 8-10 minutes, just to let the crust crisp up a little.
Remove from oven and top with the remainder of the peaches and the rest of the crust in a lattice pattern. Dot with butter (lots of it!) and sprinkle with the remainder of the cinnamon-sugar. Bake for 25-30 minutes, until the crust is golden and juices are bubbling. Serves 6 (or in my family…4) 😉
Recipe source: My great-grandmother, Baba