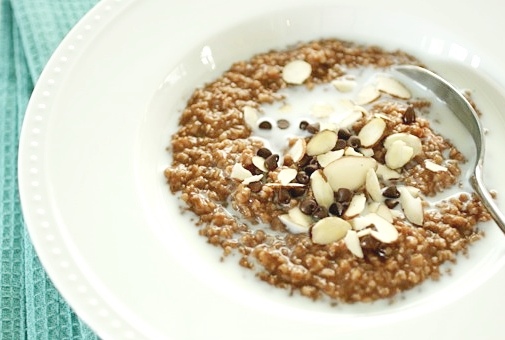 Chocolate + oatmeal + almonds = one yuuuuummy breakfast!
When you have a teething 6 month old with a fiery red-headed temper, you're going to need a hearty breakfast to keep you going throughout the day. Let me rephrase that- a QUICK hearty breakfast. So lately, I've been microwaving up some quick-cooking steel cut oats and stirring in a few chocolate chips and sliced almonds. Fast, yummy, and filling!
Chocolate Almond Oatmeal
1/4 cup quick cooking steel cut oats*
3/4 cup water
1 teaspoon sugar
dash salt
handful semi sweet chocolate chips
handful slivered almonds
milk, for stirring in at the end, if desired
Combine the oats, water, and salt in a small bowl and microwave for 4 minutes. Let sit for another 2 minutes or so. Stir in the sugar, chocolate chips, almonds, and milk. Serves 1.
*Feel free to use plain old quick cooking oats, if you can't find steel cut.
Recipe source: Sing For Your Supper original