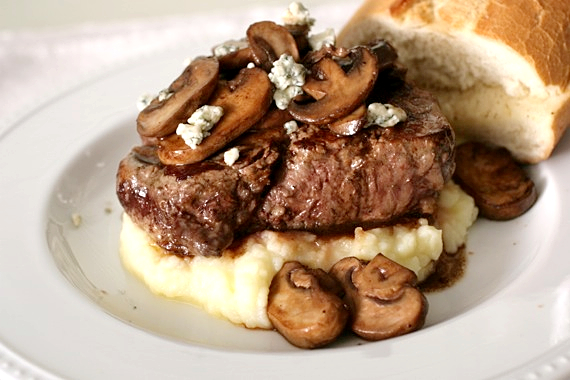 Our anniversary (6 years, to be exact!) is coming up in the next month and we'll be spending it in our new house! HOW exciting is that?! This will be a pretty big one- new town, new house, new baby- new life! We really prefer staying in on most special occasions- a nice, quiet evening at home, cooking together, sipping wine…it's much better than going out to a loud, busy restaurant! Since we'll have so much to celebrate, I think the entree of choice should be something extra special. Something like these pan-seared filets! YUM! They couldn't be easier and they take less than 30 minutes to prepare! The end result is a tender, juicy steak with incredible flavor. A perfect meal for a perfect night at home (we may just send our little munchkin over to Pops and Mini's house for the evening…)! 😉
Pan-Seared Filets with Mushrooms and Blue Cheese
2 8-ounce filets (this works great with ribeye too!)
vegetable oil
2 tablespoons butter
salt and pepper
1 pound button mushrooms, cleaned and sliced
olive oil
1 tablespoon worcestershire sauce
splash red wine
crumbled blue cheese (as much or as little as you'd like)
Preheat the oven to 400 degrees.
Heat a large cast iron skillet over high heat until very hot, 5 to 7 minutes.
Brush the steaks with the vegetable oil on each side and season with salt and pepper.
When the skillet is ready, add the steaks and sear on both sides for about 1 1/2 minutes per side.
Top each steak with a tablespoon of butter and place the skillet in the oven. Cook the steaks until cooked to desired doneness (about 10 minutes for medium and 15-20 minutes for well-done).
Remove the steaks to a platter, cover with foil, and allow to rest at room temperature for 10 minutes, while you cook the mushrooms.
To cook the mushrooms, heat 1 or 2 tablespoons olive oil in a skillet. Add mushrooms, worcestershire sauce, wine, salt, and pepper. Cook for 5-8 minutes, stirring frequently.
Top the cooked steaks with the sautéed mushrooms and a few crumbles of blue cheese. Serves 2.
Recipe source: Sing For Your Supper original