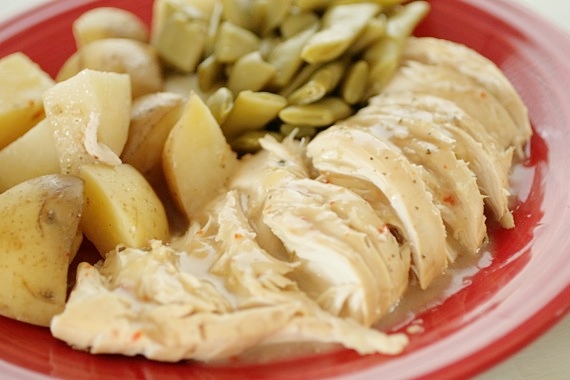 HI! I'm back! Whew, that was a long hiatus, huh? It was well worth it, though- we have almost the entire house painted (including all the kitchen cabinets), a few pictures on the walls, cable and internet set up, all the dishes are put away, and Cassidy's room is all set up. Things are getting there. Now all I have to do is get my fall decorations out and I'm all set! 🙂
Anyway, with all this moving madness going on, there's simply no time to cook. That's why the crockpot is my dear, dear friend. Throw some chicken and seasonings in, let it do its thing, and you've got a home-cooked dinner. Which is good, because if I have to eat out one more time I think I'll lose my mind! This is one of our favorite easy weeknight meals; every time I make it, Joel raves about it. I like to serve it along with some green beans and roasted potatoes, but it goes great with any side dish!
 Crockpot Italian Chicken
4 boneless, skinless chicken breasts
1/4 cup sundried tomatoes, roughly chopped
1/3 cup bottled Italian salad dressing (I like Newman's Own Oil & Vinegar or House Italian)
1/3 cup water
salt and pepper
1 tablespoon flour
Place all ingredients in the crockpot and cook on low for 8 hours (or high for 4-6 hours), until chicken is tender and moist.
Remove chicken from crockpot and set aside. Pour all the cooking juices in a pan and cook over low heat. In a small bowl, mix the 1 tablespoon flour with 1 tablespoon of the hottest tap water. Whisk together with a fork until a smooth paste is made. Whisk the paste into the cooking juices to thicken. Whisk until bubbling and slightly thickened. Taste for seasoning.
Shred the chicken and spoon the sauce over the top. Serves 4.
Recipe source: Sing For Your Supper original