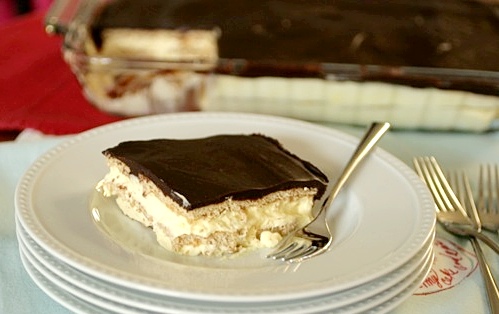 Are you ready for an EASY recipe that will knock your socks off?? Well, this is it, folks! This 4 ingredient dessert is one of those awesome, easy, and quick recipes that everyone is sure to love. I promise.
My sister first introduced me to this "cake" awhile back. She had made it for a party and was kind enough to share the leftovers with me. I was skeptical at first (and really, who could blame me- graham crackers, instant pudding, and canned chocolate frosting?), but was singing a different tune after one bite. Something magical happens when graham crackers and vanilla pudding sit together for awhile. The end result is strangely similar to a real eclair. And since I don't have time to mess with pâte à choux…this is perfect! Try it- you won't be disappointed!!
Chocolate Eclair Cake
2 (3.5 ounce) packages instant vanilla pudding mix
1 (8 ounce) container frozen whipped topping, thawed
3 cups milk
1 (16 ounce) package graham cracker squares
1 (16 ounce) container prepared chocolate frosting
In a medium bowl, whisk the pudding mix, whipped topping, and milk.
Arrange a single layer of graham cracker squares in the bottom of a 13×9 inch baking pan and evenly spread half of the pudding mixture over the crackers. Top with another layer of crackers and the remaining pudding mixture. Top with a final layer of graham crackers.
Soften the frosting in microwave for 30 seconds, stirring halfway through and spread over the whole cake up to the edges of the pan. Cover and chill at least 4 hours before serving. Serves 12.
Recipe source: My Baking Addiction