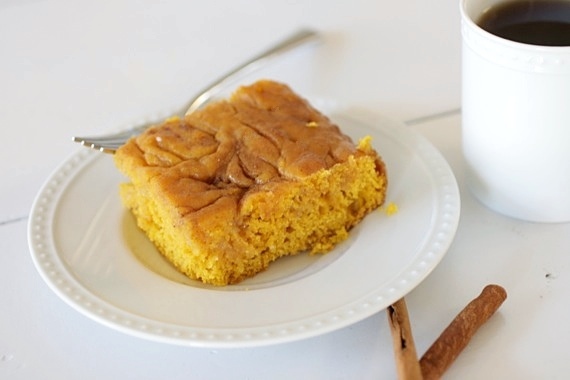 I don't post political rants. I don't even post my political opinions. This is a food blog, not a place for me to try to sway others toward my ways of thinking. That's why I had to chuckle while reading my twitter feed during the days leading up to and during the election.
"Oh, I'm a big, important food blogger with my own cookbook (who doesn't have one these days?….ok, me…. womp, wah), so naturally, people will change their votes based on my snarky, foul-mouthed tweets…".  Really? Really??
I just couldn't help but laugh. In fact, that's all you can do when people you normally look up to and respect are posting things that are mean, condescending, and downright nasty about others. So food bloggers, let's stick to what we know – food.  Speaking of food- Thanksgiving is a mere 2 weeks away! Do you know how exciting that is?! Get those cans of pumpkin ready, because the best time of the year (next to Christmastime, of course…duh) is UPON US! Yippee!!!
This cake rocks. Moist, pumpkiny, cinnamony, cake drizzled with sweet, sticky sweetened condensed milk. I'm in love!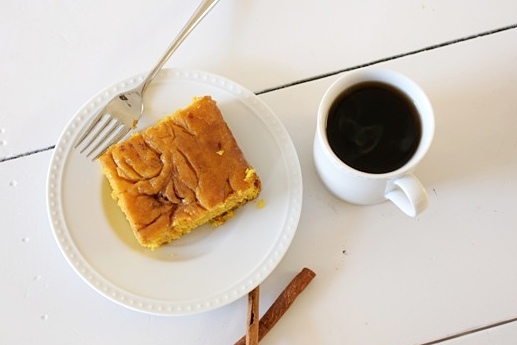 Sticky Pumpkin Cinnamon Cake
1 boxed yellow cake mix
1 can pumpkin
1/3 cup vegetable oil
2 eggs
1 teaspoon cinnamon
2 tablespoons unsalted butter, melted
1 14-ounce can sweetened condensed milk
1/2 teaspoon cinnamon
Preheat the oven to 350 degrees. In a large bowl, combine the cake mix, pumpkin, oil, eggs, and cinnamon; beat until smooth. Spread into a greased 9×13 pan; drizzle the melted butter over the top of the batter (I used a knife to swirl the butter into the batter so it would be a little more evenly drizzled over the cake, but you don't have to do this.) Bake for 25-30 minutes, until a toothpick inserted into the center comes out clean.
Meanwhile, mix the sweetened condensed milk and cinnamon.
While the cake is still warm, poke holes all over the top using a toothpick or fork. Pour the sweetened condensed milk over the top of the cake and spread evenly. Let sit at room temperature until all the glaze has soaked into the cake. Serve immediately. Serves 12.
Recipe source: Sing For Your Supper original