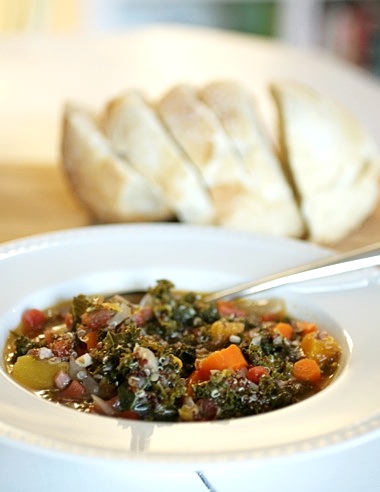 Thanksgiving is in 6 days!! YAY! And that means my FAVORITE day of the whole year is only 7 days away — Christmas Decorating Day! Forget Black Friday; I'm all about staying home, eating leftovers, and pulling out every single box of Christmas decorations while listening to my favorite Christmas CDs (hello, Amy Grant, Bing Crosby, and Harry Connick, Jr.!). It's a happy day, I tell you!
But that really has nothing to do with this recipe. I just felt like sharing. 🙂 I recently bought a giant bag of quinoa from Trader Joe's (LOVE that we have one of those now!) and have been using it like crazy lately. I've never used it in a soup before, but I've always loved the idea of using quinoa in place of rice or pasta in a soup. I decided to whip something up using the huge amount of kale in my fridge and some frozen chopped butternut squash leftover from baby food-making. 🙂 I loooove the combination of hearty, flavorful kale with the creamy butternut squash. And the quinoa adds a great nuttiness. There are so many textures going on- it makes for one great soup!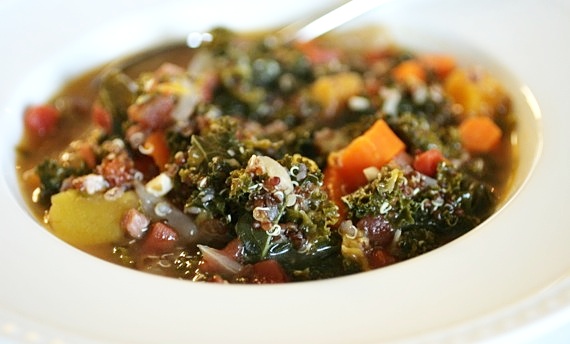 Kale, Butternut Squash, and Quinoa Soup
2 cups kale, rinsed and chopped
1 cup quinoa, thoroughly rinsed
1 cup cubed butternut squash
1/3 cup pancetta, chopped
1 medium onion, chopped
2 cloves garlic, minced
5 or 6 carrots, chopped
6 cups chicken stock or broth
salt and pepper
In a large stock pot over medium heat, cook the pancetta for 2-3 minutes; add the onion and cook until translucent. Stir in the garlic and cook for 1 minute. Add carrots, kale, butternut squash, and salt and pepper and bring to a boil; reduce heat to medium-low and cook for about 15 minutes, until the carrots are tender. Add the quinoa. Cook for about 20 minutes more, until quinoa is translucent. Serves 4.
Recipe source: Sing For Your Supper original