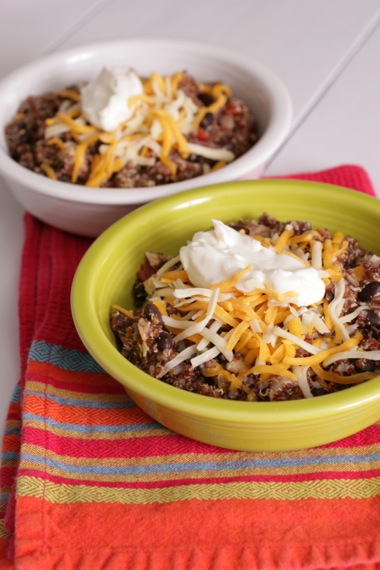 How was everyone's Thanksgiving? Ours was wonderful- Cassidy seemed to really love Thanksgiving food, which made mommy proud. 🙂 We've been eating nothing but leftovers lately, which is awesome, but I'm ready for some different flavors now (I think it's probably a good idea to lay off the pie for awhile, too). 😉 When I saw a recipe for Mexican quinoa on Annie's blog, I immediately added the idea to my short list. So glad I did- this exceeded my expectations big time! I really love quinoa any way I can get it, but the addition of chicken, tomatoes, and Mexican spices just puts it over the top.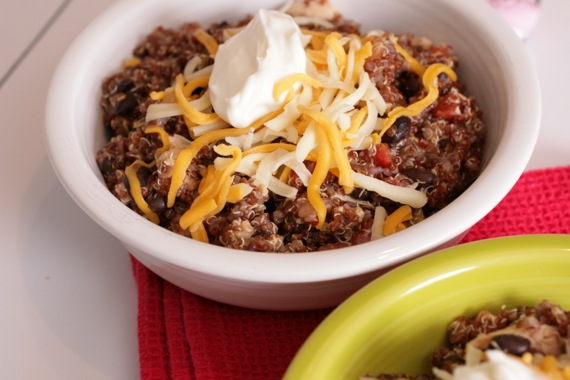 If you're feeling hesitant about this recipe, just go for it! Trust me, you'll love it! Quinoa might sound intimidating and weird, but it's really not- it's easy as can be and super yummy! Give this one a try- you're Thanksgiving-overloaded taste buds will thank you!
Mexican Quinoa with Chicken
1 cup quinoa, thoroughly rinsed
1 1/2 cups water
1 tablespoon olive oil
half an onion, chopped
1 clove garlic, minced
1 can rotel tomatoes (diced tomatoes with green chiles)
1 can black beans, drained and rinsed
1 boneless, skinless chicken breast, fully cooked and shredded
1/2 teaspoon salt
1 teaspoon chili powder
1/4 teaspoon cumin
pinch cayenne pepper
juice from half a lime
shredded cheddar cheese and sour cream for garnish
In a large pot, sauté onion in the olive oil until translucent; about 10 minutes. Add garlic and cook for about a minute. Add water, quinoa, salt, and spices and bring to a boil; reduce heat to medium and cook for 20-25 minutes, until water is absorbed. Stir in beans, tomatoes, chicken, and lime juice. Top with cheese and sour cream if desired. Serves 2.
Recipe source: heavily adapted from Annie's Eats; originally from Peanut Butter Runner