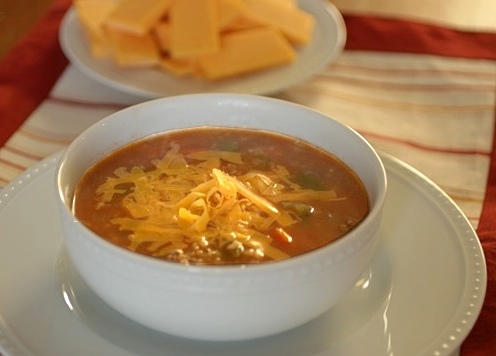 I'm going to level with you- the reason I haven't paid much attention to this blog lately isn't because I have a new blog, or because it's the holiday season, or because I'm just "soooo busy! OMG, it's just like, crazy how busy I am, you know?!" (p.s. don't you hate people like that?). It's because I've simply been having too much fun lately. My little stinker is 10 months old now and friends, that's a FUN age! We play, we crawl, we tickle, we "cook"…we have fun. I'm loving every second of being a mommy!
Unfortunately, that doesn't always go hand-in-hand with being a great blogger. I wish I were one of those super moms that has time to do it all plus blog about it. Oh well. Can I make it up to you with some yummy soup?? I know the pictures are downright embarrassing, but the soup is pretty freaking awesome. We LOVE stuffed peppers, but sometimes I just don't feel like messing with the whole process. This soup is a WINNER because you throw all your favorite components of stuffed peppers into a big pot and you're done. We were super blown away with how easy and delicious this was!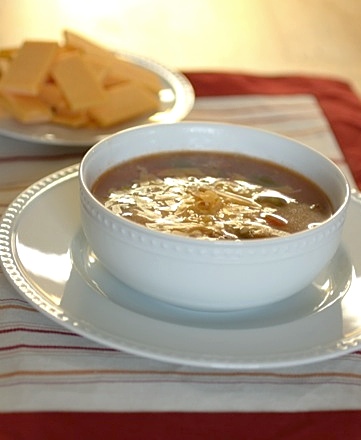 Stuffed Pepper Soup
2 large bell peppers, roughly chopped
1 onion, chopped
4 carrots, chopped
2 celery stalks, chopped
1 can diced tomatoes (14.5 ounces)
1 small can tomato sauce (8 ounces)
salt and pepper
1 cup long-grain white rice
1 pound lean ground beef
6 cups chicken broth
1 bay leaf
1/2 teaspoon sugar
cheddar cheese, for topping
In a large stockpot, brown the ground beef with the onion, carrots, and celery. Drain off grease. Add the chicken broth, peppers, tomatoes, tomato sauce, salt, pepper, bay leaf, sugar, and rice. Bring to a boil, then reduce heat to medium-low. Simmer for at least 15-20 minutes, until the vegetables are tender and rice is fully cooked. Top with shredded cheddar cheese and serve. Serves approximately 6-8.
Recipe source: Sing For Your Supper original