Happy New Year, friends!! I hope the holidays were as magical for all of you as they were for me. Our first Christmas with Cassidy was truly wonderful. In fact, I'd love for you to read all about it and see the pictures I took. I've written a Christmas Recap post over on my family blog and I hope you'll check it out!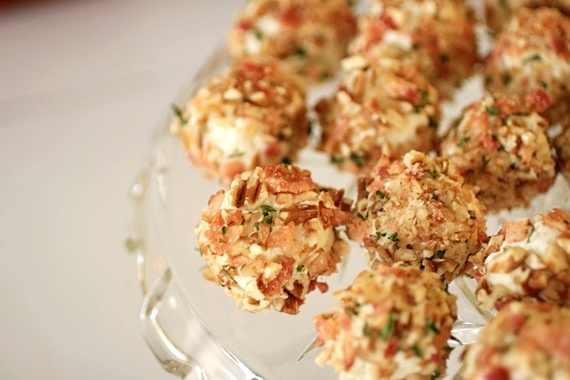 You'll notice I didn't do a 'Best of 2012' post this year, because, well, I kind of find those obnoxious anyway, and…all the best of 2012 involved a little diaper-wearing red head; not food. 😉
Now, onto the goods. I made these truffles with every intention of sharing them with you before the holidays were over, but better late than never, right? The fact is, these babies can be enjoyed any time of year! Any occasion! A Tuesday, perhaps! In fact, I may put them on the menu for Cassidy's first birthday party. Because let me tell you- they're goooooood. Better than good, really. Smooth, silky goat cheese mixed with a bit of honey and rolled in toasted pecans and crispy bacon. Yuuuuuummmm. Smear these bad boys on a toasted baguette and you're well on your way to heaven, folks.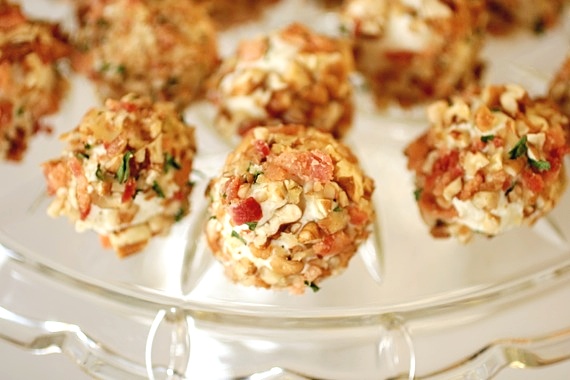 Goat Cheese, Bacon, and Pecan Truffles
8 ounces goat cheese, softened to room temperate
1 teaspoon honey
1 teaspoon half and half or milk
1/4 teaspoon salt
1 cup pecans, chopped
6 slices bacon, cooked until crispy and roughly chopped
2 teaspoons dried parsley
In a small pan, toast the pecans over medium-high heat until fragrant, about 5 minutes. Watch them carefully! Let cool completely. Combine the pecans, bacon, and parsley in a pie plate or large platter.
Line a baking sheet or large plate with parchment paper.
Combine the goat cheese, honey, half and half, and salt in a large bowl. Scoop out 1-2 inch balls and carefully roll in the pecan/bacon mixture. Set on the parchment paper-lined baking sheet or platter. Refrigerate for at least 30 minutes. Remove from the refrigerator 30 minutes before serving to take the chill off. Serve with toasted baguette slices or crackers. Makes about 35-40 truffles.
Recipe source: Sing For Your Supper original