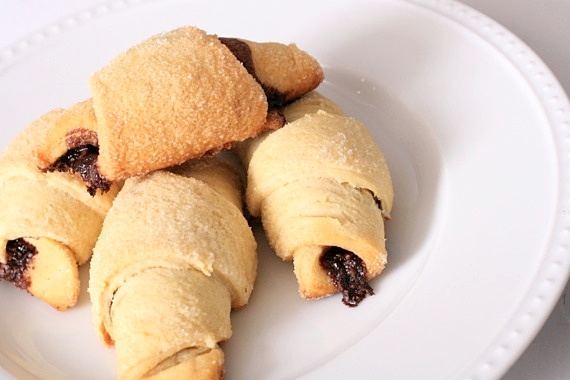 Ok, I realize "World Nutella Day" was yesterday, but better late than never, right?
This is possibly one of the easiest recipes I've ever posted, considering every ingredient is store-bought. But hey, sometimes life can get a little crazy and you just need a recipe like this. All it takes is canned crescent roll dough, nutella, and sugar, and in minutes you'll have a warm, gooey, comforting snack, breakfast, or dessert. Yes, please! These would actually be really cute (and quick!) for the kids' Valentine's Day breakfast- maybe even use a little pink decorating sugar and it's just downright festive!
Quick and Easy Nutella Crescents
1 can refrigerated Pillsbury crescent roll dough
nutella
sugar, for sprinkling
Preheat the oven to 350 degrees. Spread a little nutella (about one tablespoon per triangle) on each triangle of dough. Starting with the big end, roll into a crescent shape and sprinkle generously with sugar. Arrange on a baking sheet lined with parchment paper and bake for about 8-10 minutes, until golden brown. Serve immediately. Makes 8 crescents.
Recipe source: Sing For Your Supper original