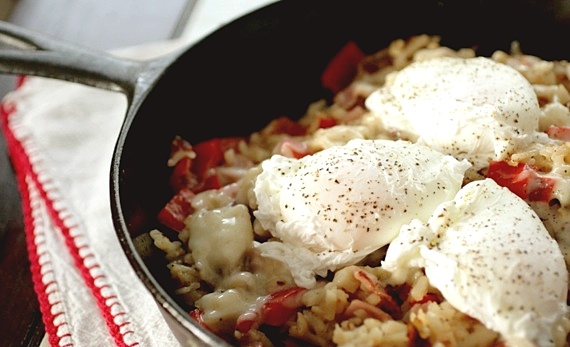 I'm going to be honest with you- since Cassidy was born, I haven't spent one single night away from her. In fact, I haven't spent more than 4 or 5 hours away from her! Joel has, due to various business trips, but not me. Nope. And I've been perfectly ok with that. In fact, every time we decide to take a couple of hours for ourselves and leave the baby with a grandparent, as soon as we leave the driveway, I'm flooded with feelings of guilt over leaving my baby. Then I'll drive Joel nuts by asking if maybe we should've just stayed home. Am I alone here?? Surely I'm not the only crazy mom. 😉
But everything changed a couple of days ago when Joel booked us an overnight getaway. That's right, in a few short days, I'll be abandoning leaving Cassidy to go enjoy an overnight stay in a plush hotel room. There will be champagne, a couple's massage, gourmet dining, and best of all- a night of uninterrupted SLEEP. No baby monitor, no early morning wake up call, no nothing. Nothing but sleep. This all sounds great, but truth be told, I'm still unsure how I'll handle it. Am I really ready for a night away from my baby?? Don't get me wrong, the room is BOOKED and there's no going back now, but I really hope I don't blow the whole thing by whining for my baby the whole time.
Anyway, that story has absolutely nothing whatsoever to do with hash…sorry. Onto the recipe. I had some really yummy smoked ham leftover, along with a couple of really beautiful red peppers and a bag of frozen hashbrowns lying around. What else would I do but make ham and red pepper hash?! YUM!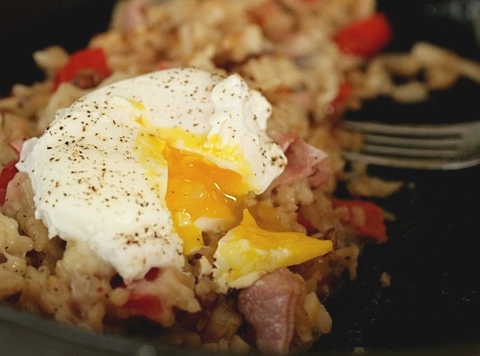 Ham and Red Pepper Hash
1 16-ounce bag frozen hash browns
1 red bell pepper, thinly sliced
1 cup cooked, diced ham
1/2 cup shredded pepperjack cheese
3 large eggs, poached or fried
salt and pepper
olive oil
Drizzle 1 tablespoon olive oil in a large skillet, then add the frozen hash browns and red peppers. Cook over medium-high heat for 10 minutes or so, until peppers begin to soften. Stir in ham and salt and pepper. Cook for 5 minutes more. Top with cheese and poached eggs. Serves 3-4.
Recipe source: Sing For Your Supper original