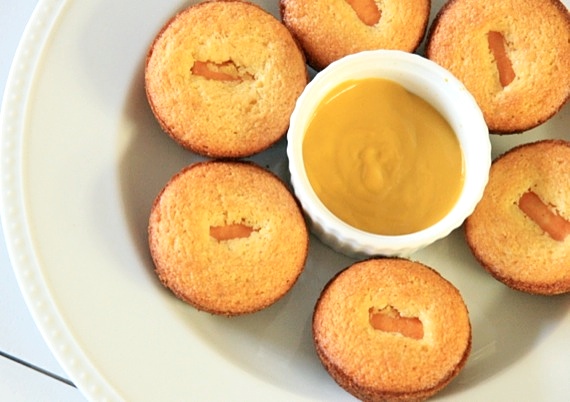 Who doesn't love corn dogs, right? No one! Especially in fun-sized little mini muffin form! I saw these awhile back and knew I wanted to make them, but wasn't jazzed about using store-bought wieners that are made with who-knows-what. If you buy the kind that are 100% beef, they're full of fat and sodium; if you buy the turkey or "low fat" varieties, they're still full of sodium along with all kinds of additives, preservatives, nitrates, and Lord only knows what else. So naturally, when I discovered Trader Joe's (God bless that store!) carries all-natural chicken dogs that contain minimal fat and sodium, and are completely free of nitrates and preservatives- I did a major happy dance. Right there in the store. Then I came home and (finally!) made those adorable little corn dog muffins I've been dying to try! Yay!
Besides being so darn cute and fun to eat, these are actually really good! And bonus, they're 100% kid-friendly! Granted, I had to cut them up into little baby-sized bites, but Cassidy still gobbled hers up.
Homemade Corn Dog Mini Muffins
1 package Jiffy corn muffin mix
1 egg
1/3 cup milk
4 all-natural wieners (I used Trader Joe's chicken dogs), cut up into small chunks
Preheat the oven to 375 degrees. Mix the corn muffin packet with the egg and milk. Divide batter into 2 greased mini muffin pans and drop a few pieces of the wieners in each cup. Bake for 8-10 minutes. Makes about 24 mini muffins.
Recipe source: adapted from The Family Kitchen