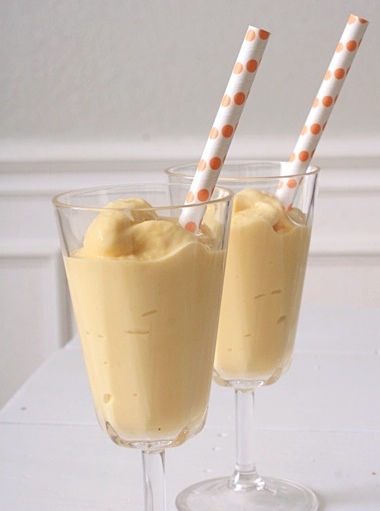 A loooong time ago, when Joel and I lived in our apartment in North Dallas, we used to eat at an Indian restaurant (my first Indian food experience was there, actually!). They had this delicious drink called a mango lassi. It was like a mango smoothie and we loved it! You may ask yourself, "what exactly is a 'lassi'?", well, to the best of my knowledge, it's a smoothie made with fruit, yogurt, milk, and honey. Sounds good, right? Well it is!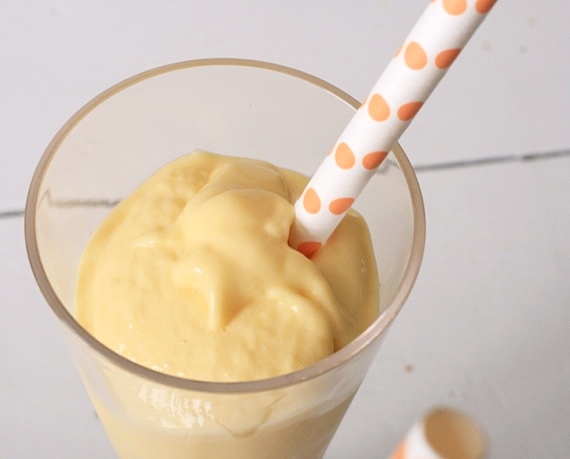 I love that these are made with fat-free yogurt, so they're pretty much guilt-free! You can use any fruit you like, although I believe mango is the most common. I'm going to try strawberry next, then probably peach or blueberry since Cassidy loves blueberries so much. She loved the mango flavor, though! This was a great "dessert" after a healthy meal and I felt great about feeding it to my baby. I know these will be a popular beverage this summer, since it's so light and refreshing!
Mango Lassi
2 cups mango, chopped (I used frozen mango, which saves so much time!)
1/2 cup nonfat greek yogurt
1 cup milk
1 tablespoon honey
1/2 teaspoon vanilla extract
Blend all ingredients in a blender until smooth (if you're using frozen mango, it may be pretty thick, almost like frozen yogurt). Serve immediately. Serves about 4.
Recipe source: Sing For Your Supper original