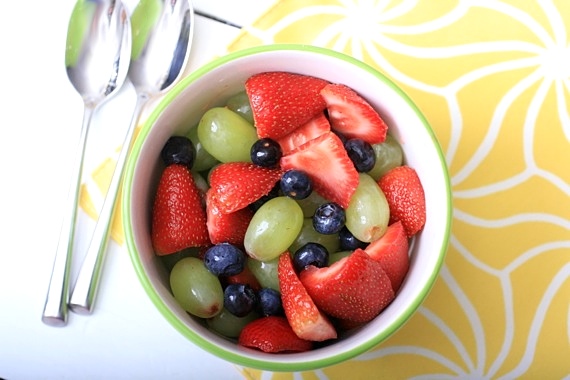 I hope everyone had a happy Easter! Ours was great- the Easter Bunny came to visit Cassidy, church was great, and my whole family had a wonderful meal at my parents' house. Of course Cassidy was the life of the party. 😉
One of the best parts about the meal was surprisingly not one of the decadent desserts (one of which was provided by me), but the simple fruit salad my sister brought. Nothing but fresh strawberries, blueberries, and grapes tossed in a honey-lime dressing. It was sooo good! Something about the combination of honey and lime juice is magic! I have a feeling this will be a pool-side favorite this summer!
Fruit Salad with Honey-Lime Dressing
1 pint container fresh strawberries, stems removed and cut into halves
1 pint container fresh blueberries, stems removed
1  bunch (about 1 1/2 pounds) seedless grapes
1/4 cup honey
juice from 2 limes (about 2-3 tablespoons)
Combine fruit in a large bowl and set aside. In a small bowl, whisk the lime juice and honey until combined. Pour over the fruit and toss to coat. Serves a crowd.
Recipe source: my sister, via Oh! You Cook!