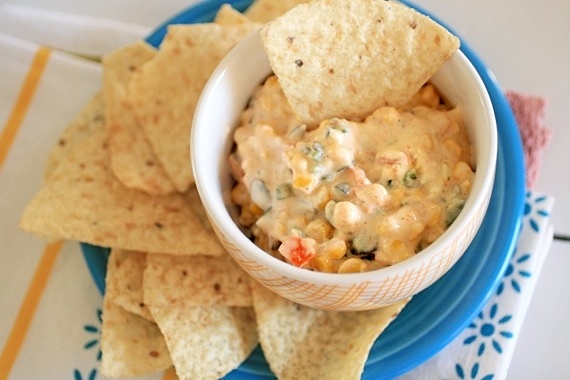 I know it may seem a little preemptive to post a recipe with "poolside" in the title (especially since we're expected to have some more cold [ish] weather this week), but since a lot of people are gearing up for barbecues and outdoor parties, I decided I couldn't wait to share this one with y'all! I pinned this recipe months ago and had been dying to try it until our friend Patty brought it to a baby shower I hosted. Everyone kept raving about the awesome dip and finally I asked her what it was- "I saw it on Pinterest. It's called 'skinny poolside dip'". Every single one of us (no joke!) erupted with, "I pinned that recipe too!" Luckily, there was a little left over and I ate every last bit of it for dinner that night! It's sooo good! I ended up making it for a cookout just a week or so later, with rave reviews. I love this stuff. Even if you don't have a pool, you'll definitely want to make it. It'll be a favorite this summer for sure!
Skinny Poolside Dip
2 cans sweet yellow corn, drained
8 ounces fat free cream cheese, at room temperature
1/2 cup fat free Greek yogurt
2 jalapeños, seeded and chopped
1 red bell pepper, seeded and chopped
1 packet (1 ounce) dry Ranch seasoning
1 small can (2.25 ounces) chopped black olives
Mix all ingredients until combined. Chill until ready to serve. Serve with tortilla chips, triscuits, or crackers. Serves about 6-8.
Recipe source: adapted from Home Trends Utah