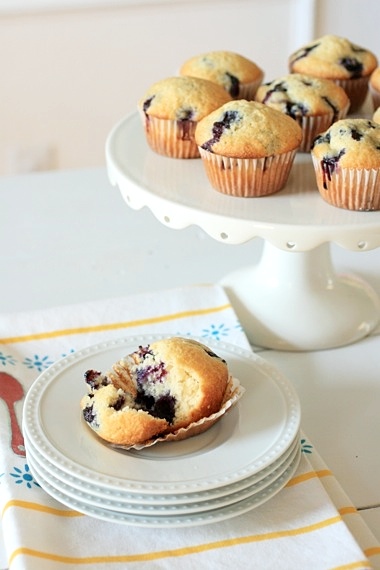 So…May is here. I don't know how it happened but suddenly, out of nowhere, it's almost mid-May. Which means…Mother's Day is almost here! Yay! This holiday has a whole new life to it now that it applies to me and not just my mom and grandmothers (not that I didn't love celebrating Mother's Day before I had Cassidy…it's just more fun now.) 😉 Now that I'm on "Team Mom" (golly, that just sounds lame, doesn't it?), I realize just how important it is for mothers everywhere to have an entire day dedicated to them. A day to feel special and well-rested, pampered and praised, and tended TO instead of being the one doing all the tending. Moms are the hardest working people on the planet- we get spit-up on, pooped on, poked at, toes stomped on, pinched, bitten, screamed at, sat on, and food thrown on us all before 8 in the morning. I think we deserve a day of recognition for that, don't you? 😉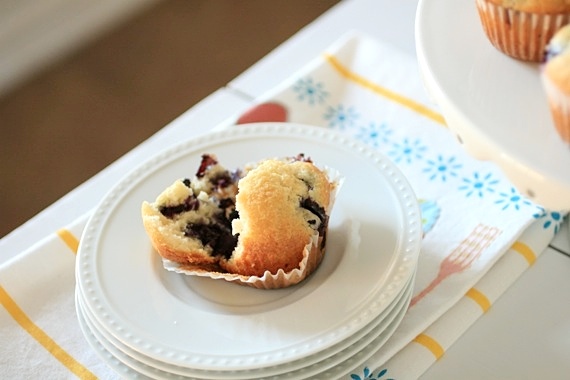 And maybe a lovely batch of muffins to wake up to with a hot cup of coffee…sipped in silence and peace. Really, that's all I could ever ask for for Mother's Day. A little rest, some peace and quiet, and maybe a muffin or two. Sounds heavenly to me. These muffins are no-frills, quick and easy, and taste absolutely perfect warm out of the oven with a cup of coffee. I've tried lots of blueberry muffin recipes, but frankly, these are my favorite. They're everything a blueberry muffin should be. Tender, slightly sweet, and full of juicy blueberries.
I certainly wouldn't mind if someone were to make these for me on Mother's Day weekend… (wink, wink!) 😉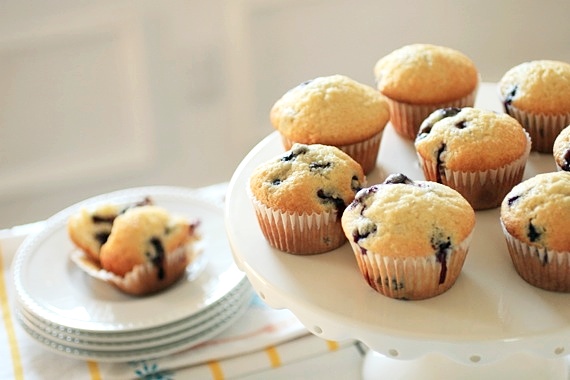 Classic Blueberry Muffins
1 1/2 cups all-purpose flour
3/4 cup sugar, plus 1 tablespoon for muffin tops
1/2 teaspoon salt
2 teaspoons baking powder
1/3 cup vegetable oil
1 large egg
1/2 cup milk
1 1/2 teaspoons vanilla extract
1 cup fresh blueberries
Preheat oven to 400 degrees F. and line 8 standard-size muffin cups with paper liners. Add 1 to 2 tablespoons of water to any empty muffin cups (this helps to make sure the muffins bake evenly).
Whisk together the flour, 3/4 cup of the sugar, baking powder and the salt in a large bowl. In a large measuring cup, whisk the vegetable oil, egg, milk, and vanilla extract until combined. Add milk mixture to the bowl with flour and sugar then use a fork to combine. Do not over mix. Batter will be thick. Carefully fold in blueberries with a wooden spoon.
Divide the batter between the 8 muffin cups and sprinkle the tops with the reserved tablespoon of sugar. Bake for 15-20 minutes until muffins are golden brown and a toothpick inserted into the middle comes out clean. Makes 8 muffins.
Recipe source: Inspired Taste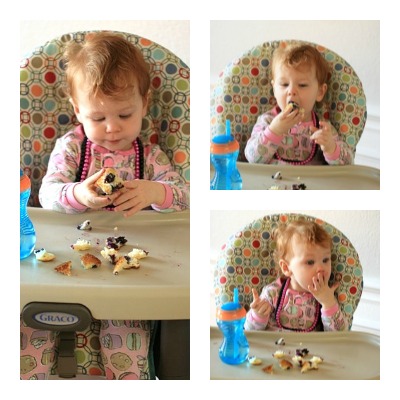 Cassidy liked them, too. 🙂