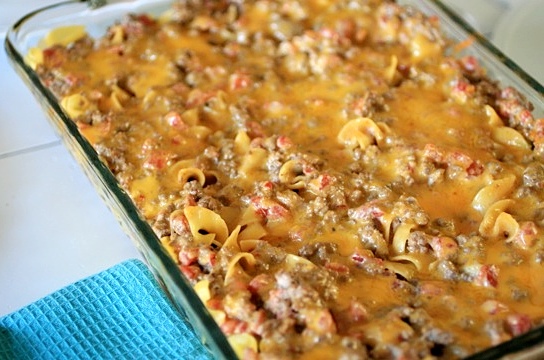 I like to set goals. It's my thing. Even if it's tiny and insignificant, I'll still try my hardest and do everything I can to achieve it. I've done it all my life, and I'm sure I'll do it the rest of my days. Some big (really big!) goals I've set for myself over the years have been college (private school isn't cheap, and my goal was to get as many scholarships as I could to help out), grad school, singing with Fort Worth Opera, Joel (probably the greatest achievement of my life!), and so many more! Nowadays, my goals tend to be more family-related, such as putting healthy, homemade meals on the table at least 5 nights a week. It's a challenge, but it's definitely doable! Especially with quick and easy meals like this one!
This is actually an old recipe from a few years back, but since it's one of our favorites, I thought it could use some updating. This is as simple a dish as they come and comforting and hearty to boot. Like I said, it's a family favorite and I make it all. the. time. Cassidy loves it.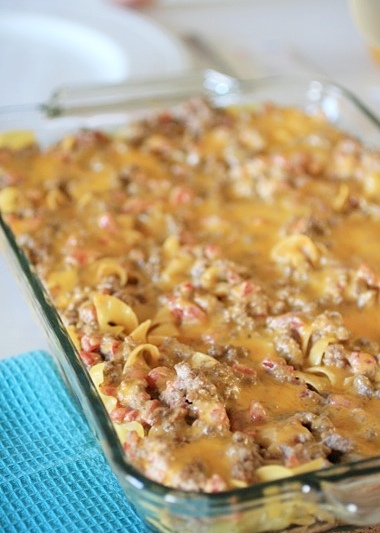 Beefy Noodle Bake
1 1/2 pounds lean, ground beef
1 can diced tomatoes (14 1/2 ounces)
1 teaspoon salt
1 teaspoon sugar
1/2 teaspoon black pepper
1 1/2 cups non-fat Greek yogurt or low-fat sour cream
3 ounces cream cheese, softened
1/4 cup onion, chopped
8 ounces egg noodles
1 1/2 cups shredded cheddar cheese
Preheat the oven to 350 degrees F. Bring a large pot of water to a boil and cook the noodles until tender, about 6-8 minutes. Meanwhile, brown the beef and onion in a large skillet over medium heat; drain fat. Add tomatoes, salt, sugar and black pepper; reduce to low heat and simmer for 5-10 minutes. Combine Greek yogurt (or sour cream) and cream cheese in a bowl; mix well and stir into the beef mixture.
Place the noodles in a greased 9×13 baking dish and top with the beef mixture. Top with cheese and bake for 20-25 minutes, until bubbling. Serves 6.
Recipe source: heavily adapted from Gooseberry Patch 'Best Ever Casseroles'