"I will praise you in this storm and I will lift my hands; for you are who you are, no matter where I am. And every tear I've cried, you hold in your hand. You never left my side and though my heart is torn, I will praise you in this storm."
Before I talk about what we witnessed 2 weeks ago, I'd like to let the people of Moore, OK know that my heart is absolutely broken for them, and we are all praying for them. What we went through pales in comparison to the devastation they've suffered.
The day after the May 15th tornado in Cleburne (that's where I live, by the way. Now you know.), I wrote down my account of what happened, but since we had no internet for a week, then my blog was hacked (isn't that lovely?), I haven't been able to share it with you until now. Here's the story of how the Cleburne tornado affected my family. All pictures were taken with my iphone and are unedited.
Wednesday, May 15, 2013.  I sat on my bed that morning, thinking about the weekend, and how we would spend it. Out in the backyard, probably. Maybe have the family over. I made spaghetti for dinner, then Joel and I went to church choir practice. While we were there, they said a hail storm was expected, so we all rushed home to put our cars in the garage.  Somehow, before I knew it, Joel, Cassidy, Izzy, Joel's parents, and I were all huddled together in the bathroom. A tornado might be coming. I had hunkered in a bathroom or closet many times before and wasn't too worried. In all honesty, I was a little annoyed at having to get Cassidy out of bed.
Then we heard a noise. Almost like the humming of an AC unit, but louder. Then it got louder and louder until it became a ferocious roar. Our ears popped and the air was sucked out of the room. It all happened so quickly, but it seemed as if everything was in slow motion. My mother-in-law held Cassidy. I had my arms around Joel's neck and my cheek against his, frantically whispering prayers. The roar got louder and there were terrifying bangs on our roof. Cassidy got scared and cried so we sang 'if you're happy and you know it' to distract her. I knew it was especially bad when Joel quietly whispered, "I love you" in my ear. He thought we would die that night. Then, silence. I mean, absolute quiet. No wind, no rain. Not. One. Sound. We wondered if it was over, and then the roar came again. More banging and howling. If possible, this time was even more terrifying than the last. Cassidy screamed as our ears kept popping. I prayed for God to protect us until at last, it was all over.
We grabbed lanterns and walked into the front yard. I couldn't see anything except for my neighbors' lanterns dancing in the darkness. I heard frantic voices, "everyone ok?!".  I ran through the yard in bare feet looking for Joel. There were limbs and roof shingles and pieces of metal everywhere.  As I walked and took in all the damage, I thanked God for the miracle He worked in that tiny bathroom. We were all safe. My family was ok.  Praise God. We were missing some parts of our roof, our trees were ripped apart, and there was an enormous tree in our pool (along with our patio furniture), but all things considered, our damage was minimal.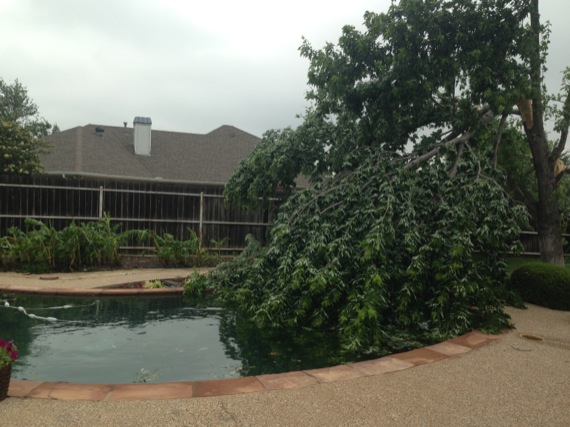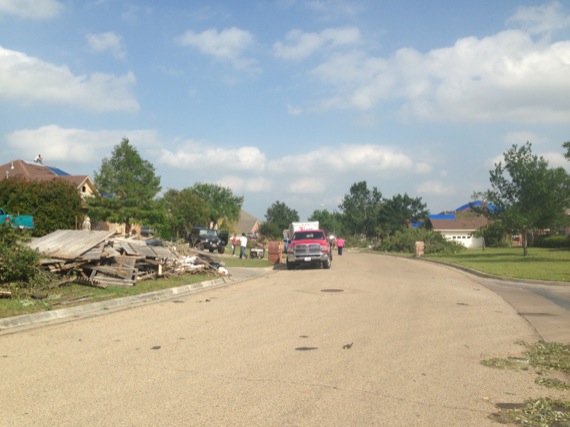 [our street]
My parents and grandparents were not so lucky. My parents' living room ceiling collapsed, dumping insulation all over everything. Water seeped into every wall. My grandparents' house of 41 years collapsed around them. They stood in a tiny hallway along with my parents as the ceilings fell in, windows shattered, and trees were ripped from the ground. By the grace of God, all four of them walked away without so much as a scratch.  The house was absolutely ruined. 41 years of memories gone in an instant. The playhouse my Grandaddy built for my sister and me was smashed against a tree. The carport was completely blown away. The tornado dumped sludge and murky water into their den, ruining treasured pictures, books, and keepsakes. All pictures below are of my grandparents' house.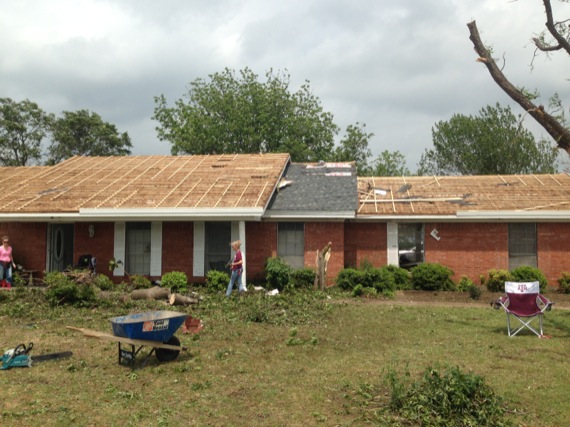 [Doesn't look too bad from the outside, right?]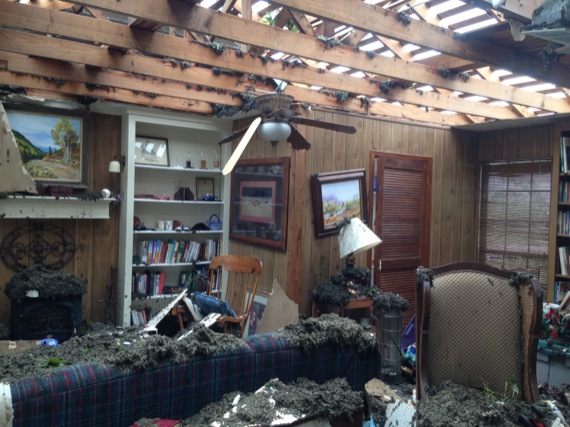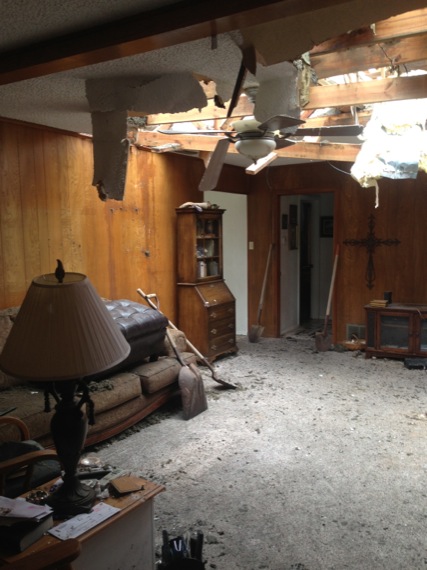 [after my cousins had shoveled away all the soggy insulation]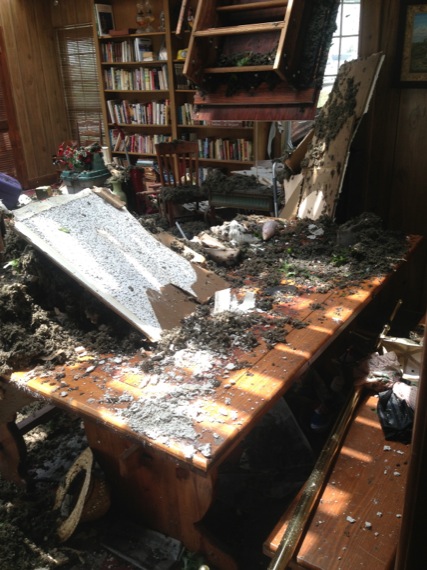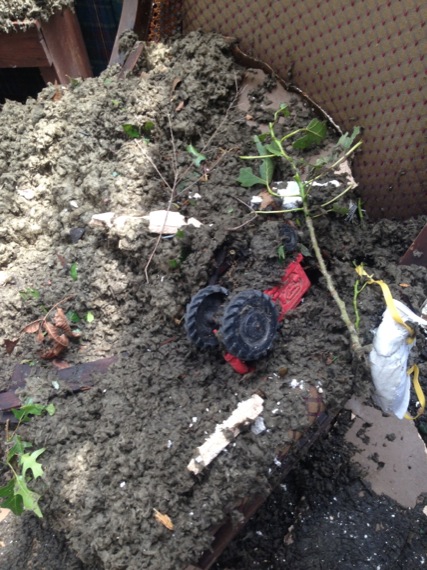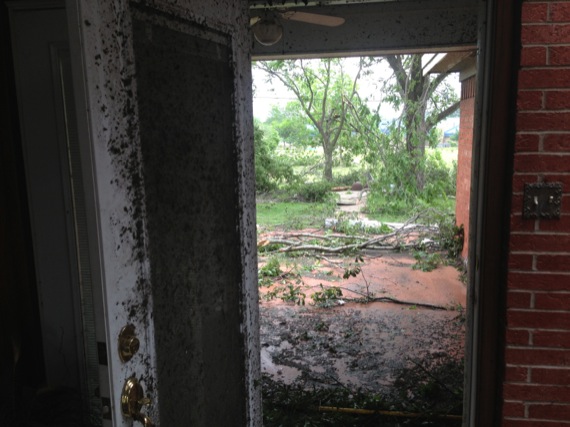 The next day, as my sister, mother, and I walked over to my grandparents' house, my sister warned me to brace myself. I could handle it, I said. But one look at the battered shell of a house that was once my most treasured retreat, and I knew I couldn't handle it. I hugged my grandparents, cried, and spoke to a few news reporters (they were hovering like flies), then walked to a secluded part of the front yard. I looked down and saw a bird wrapped around a tree branch and in that moment, something snapped and I came completely unhinged. I stood in the front yard and sobbed like a little girl. This was without a doubt, the worst thing my family has experienced.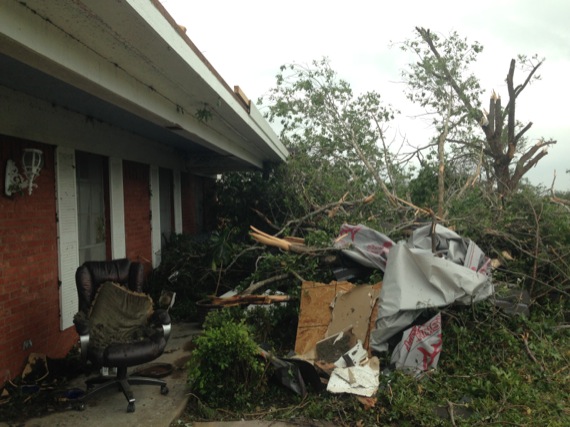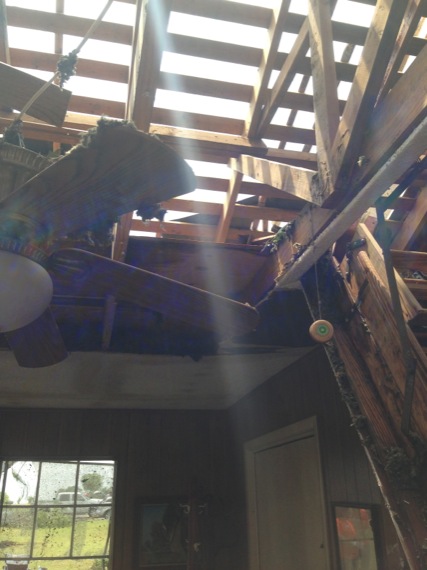 [the backyard. That's my playhouse.]
My cousins, aunt and uncle, sister, and mother and I all worked frantically to get Nana and Grandaddy's belongings out of the house before any more roof caved in and more damage was done. A crew of volunteers from Home Depot (God bless them!) showed up in the front yard with water, gloves, shovels, and chainsaws and began sawing the fallen trees apart and moving them. Church groups drove around with food and water. The way the community came together during all this was truly touching. I've never been more proud of my town.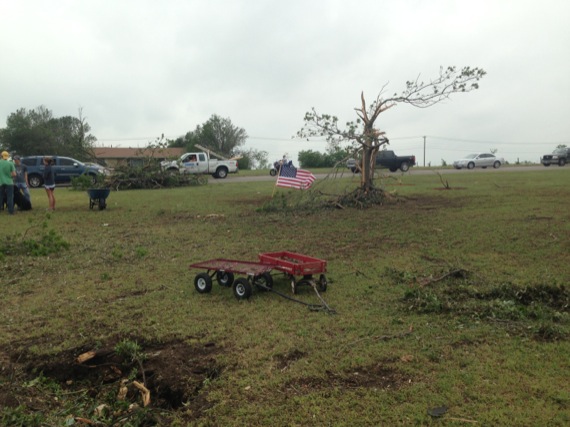 Hundreds of others in Cleburne lost their homes. Over 600 homes were damaged and so many, like Nana and Grandaddy's, were destroyed. Joel's close friend lost his childhood home. Half of the people on my parents' street were told their homes weren't safe to live in. Even with destruction and despair all around us, all we could do was thank The Lord for keeping us safe. There were no fatalities that night.
Since the tornado, we've had several more storms (when will they stop?!) and I'd be lying if I said we haven't been scared to death every time we see a little rain cloud. There are still tarps on every roof and small twigs, leaves, and debris line the streets. Every time we go outside, we're reminded of that awful night. My grandparents have found a duplex to rent until their house can be rebuilt. Everyone is doing their best to move on. Every day I hug my husband and my baby girl tighter and remember that I could've lost them.  All there is left to do now is be thankful for family and the gift of life and "praise the God who gives and takes away."