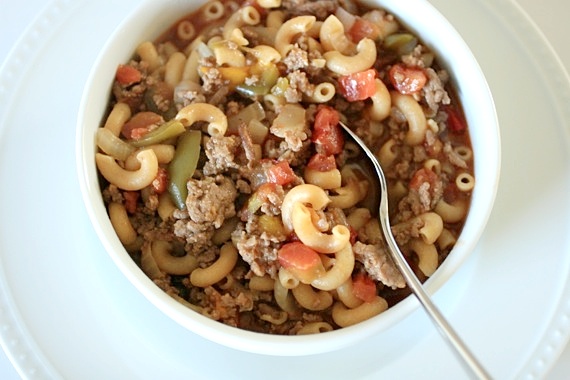 When I was growing up, I was sort of a picky eater. Ok, not sort of. I was a total brat. I hated Mexican food (gasp!), spaghetti sauce, onions, peppers, and lots of other random things. I mean, how is it possible that I hated Mexican food?! Especially when, now, I could eat it 5 days a week! Ugh. What a weird kid. If I smelled onions and peppers cooking, I automatically knew I'd be shunning dinner that night. So naturally, when my mom or anyone else would make goulash (not that my mom ever really made goulash all that often), I'd not-so-politely refuse.
Nowadays, I love the smell of peppers and onions cooking together! Throw in some ground beef, tomatoes, and whole wheat macaroni and I'm more than thrilled to fill my plate with it! So is Cassidy! (SUCH a great eater!)
This is one of those meals that comes together really quickly and has that great comfort factor. You know, like, after surviving a tornado and your family could really use some good, comforting food? Yeah, it's perfect for that. And chances are, you most likely have all of these ingredients in your fridge/pantry already! This is one of those perfect weeknight meals…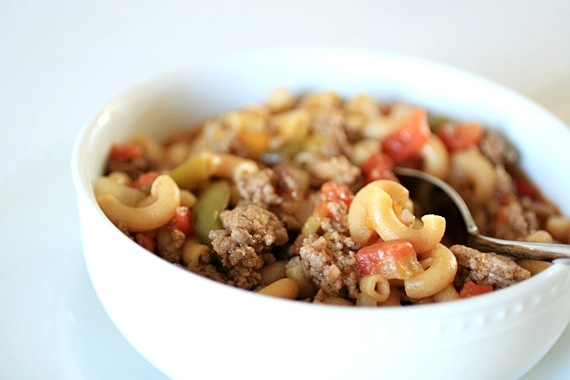 Goulash
1 pound lean, ground beef
1 onion, chopped
1 bell pepper, chopped
1 15oz. can diced tomatoes
1 tablespoon tomato paste
1/2 cup chicken broth
salt and pepper
1/4 teaspoon garlic powder
1/4 teaspoon paprika
bay leaf
splash white vinegar
1 1/2 cups whole wheat macaroni pasta
In a large skillet, cook the ground beef, onions, and peppers over medium-high heat until soft. Drain any fat. Reduce heat to medium-low and add in tomatoes, tomato paste, chicken broth, salt, pepper, garlic powder, paprika, bay leaf, and vinegar. Simmer for about 10-15 minutes.
Meanwhile, bring a large pot of water to a boil and cook the pasta until al dente; about 8 minutes. Drain the pasta and stir it into the meat mixture. Simmer on low for another 5-10 minutes. Serves 4-6.
Recipe source: Sing For Your Supper original