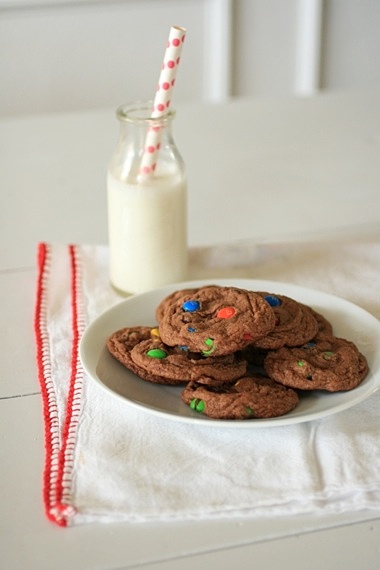 There's a joke (sort of funny, sort of not) in our family now that these are "tornado cookies", because I baked them the day of the tornado last month. Chuckle. Sort of.
These are some seriously good cookies. It's a marriage of two awesome cookies- chewy M&M cookies and rich chocolate sugar cookies. Yeah baby. I used Martha Stewart's recipe for chocolate sugar cookies (which would've been awesome on their own), and since I was craving M&M cookies, threw some M&Ms in. I was verrrrry happy with the results! Chewy and deeply chocolaty with the nice crunch of M&Ms. I can't wait to make these again; hopefully minus the tornado this time. 😉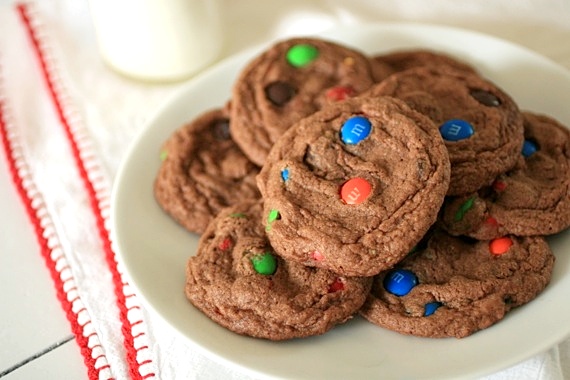 Chocolate M&M Sugar Cookies
1 1/2 cups all-purpose flour
1/2 cup good-quality unsweetened cocoa powder
1 teaspoon baking powder
1/2 teaspoon salt
1 teaspoon corn starch
1/2 cup (1 stick) unsalted butter, softened
1 1/2 cups sugar
1/2 cup vegetable shortening, substitute 1/2 cup unsalted butter, melted and cooled
1 large egg
1 1/2 teaspoons pure vanilla extract
1 1/2 cups M&Ms
Preheat oven to 375. Whisk together flour, cocoa powder, baking powder, salt, and corn starch in a medium bowl; set aside.
Put butter and sugar into the bowl of an electric mixer fitted with the paddle attachment. Mix on medium-high speed until pale and fluffy. Mix in shortening (or additional butter). Add egg and vanilla; mix until creamy. Reduce speed to low. Gradually add flour mixture, and mix until just combined. Using a wooden spoon, stir in the M&Ms.
Drop dough by tablespoon-size scoops onto baking sheets lined with parchment paper, spacing about 2 inches apart. Bake until edges are firm, 9-11 minutes. Let cool on sheets on wire racks. Cookies can be stored in an airtight container up to 2 days. Makes approximately 36 cookies.
Recipe source: adapted from Martha Stewart's Cookies cookbook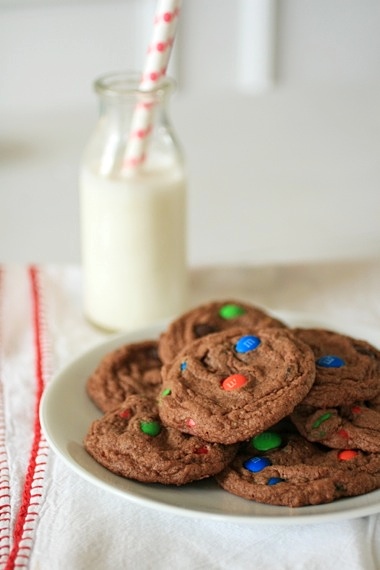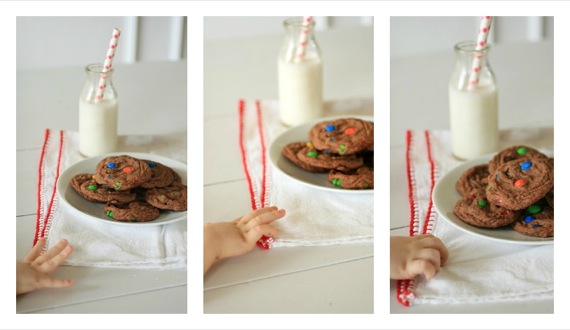 Cassidy was obviously a fan. 🙂