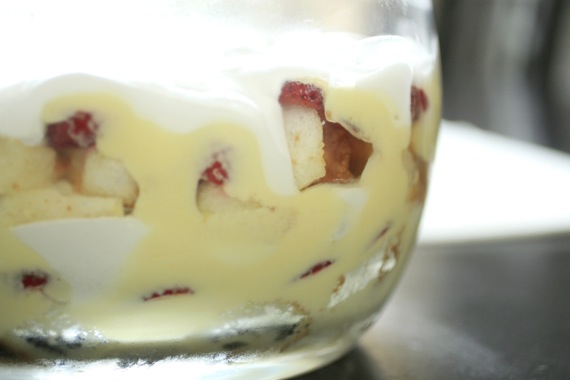 As promised, here's the second trifle I told you about. And my personal favorite. 🙂 Don't get me wrong, I love, loooove a good chocolaty trifle, but something about this lemon variety won me over. Maybe the sweet, lemony syrup- soaked angel food cake, or the lemon-vanilla pudding between layers, or the slices of fresh, ripe strawberries…whatever it is, this dessert is a WINNER! And so ideal for a summer cookout! No one wants to turn their ovens on during the hot summertime, so this trifle is where it's at. No oven required.
Summery Lemon Strawberry Trifle
1 angel food cake, cut into cubes
3 large lemons
1 cup water
1 cup sugar
2 3.4-oz. boxes vanilla pudding mix
3 3/4 cups milk
1 16-oz. container Cool Whip
1 1/2 cups strawberries, hulled and sliced
Using a vegetable peeler, remove the peel from the lemons (be careful not to get the white pith or you'll end up with a bitter taste). Squeeze the juice from the lemons into a small bowl and set aside. In a small sauce pan over medium-high heat, bring the water, sugar, and lemon peels to a boil and simmer until sugar has dissolved (about 3 minutes). Remove from heat and allow to cool. Remove peels.
Whisk the pudding mix and milk until thick, about 2 minutes. Stir in the reserved lemon juice. Set aside.
In a trifle dish or large glass bowl, place half of the angel food cake cubes in an even layer; drizzle with half of the lemon simple syrup. Layer half of the sliced strawberries, then spread half of the pudding, then half of the Cool Whip. Repeat layers. Chill for at least 4 hours before serving. Serves 12.
Recipe source: Sing For Your Supper original