I'm going to be real honest with you for a second. I'm sick of blogging. Each day I find it harder and harder to sit down and write a post. Usually because I'm too busy/too tired/whatever. But mostly because, frankly, I'm just tired of it. I'm too lazy to style my food, so my pictures suck. There's nothing I can say in my post that hasn't already been said a billion times. I've been blogging for 5 years, people. It's been said.
Blogging is a different animal nowadays. When I first started this blog back in 2008, it was pretty simple. We cooked, we photographed, we blogged. It seems like now there are like, 10 added steps! We cook it (not necessarily because it sounded like great recipe, but because we think it might be a big hit on pinterest), we style it, we photograph it, we blog it, we submit it to various food photography sites, we pin it, we post it to our facebook, twitter, and instagram, and then we do the whole thing over again the very next day, because if we let off the gas pedal for even a little, we might lose our followers and our advertising revenue will go down, all the while, finding time to go to countless seminars and conferences learning how to better our blogs, become masters at SEO, and learn how to get the maximum exposure on pinterest. Well, I'm in trouble….because I hardly do any of that! Imagine the cloud of worry constantly hanging over my head because I've fallen off the blogging horse and can't seem to get back up. What will happen to my blogher ads? What if I lose readers? My pay will go down considerably! 'My pay'?? Seriously?! Gross, Amy.
Then I log onto twitter/pinterest/feedly and see so many fellow bloggers selling out and proudly doing some random company's advertising for them. Is that what we've become, bloggers? An advertisement for someone else's stuff? If every post you create revolves around a product that someone paid you to talk about, I think you're missing the point. I'm tired of good bloggers trying to sell me on cell phones/potatoes/coffee makers/yogurt/WHATEVER.  But even that isn't the real reason I'm sick of blogging.
There is a particular post that has been sitting in my drafts folder for almost a year now. It's a cursed post. Seriously. Every time I sit down to finish the dang thing, something ALWAYS happens to prohibit me from typing a word. I'm not kidding- the post draft contains one picture…but not one word. This morning, I decided to sit down and just knock it out in one setting. Just plow on through and get it finished! And then this happened: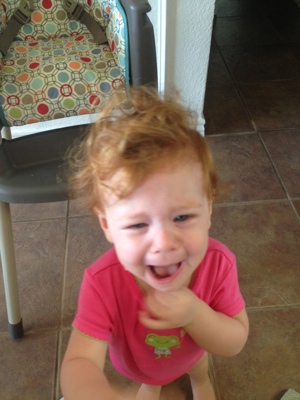 And this: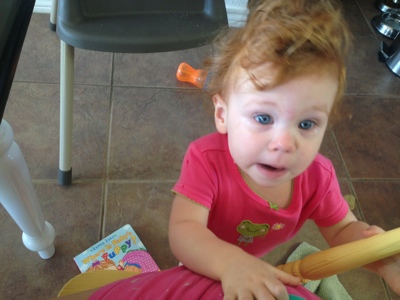 [heart = melted]
Seriously, HOW can I, in good conscience, sit there and blog while my sweet baby looks like this?! I can't. That's why I barely get any blogging done anymore. Because I refuse to do it while Cassidy is awake, since that's our time. When she's napping, I try to use the time for a shower or cleaning or napping myself. By the time bedtime rolls around, honestly, I just don't feel like it. That's my time with Joel, and the last thing I want to do is sit in front of a laptop.
I know. There are LOTS of blogging moms who find time to do it all. Pretty much all of my closest blogging friends have kids- little kids!- and they find plenty of time to devote to their blogs while giving ample attention to their children. I guess the difference between them and me is they're not burned out. I need to find purpose in my blogging again. And something tells me it has nothing to do with stats, ads, or pinterest. I know that every time I wait a week in between posts, I lose readers. I know that. But it also means I'm doing something far more meaningful with my time- whether it's swinging in the back yard or pretend cooking with Cassidy, lounging in bed watching Psych re-runs with Joel, or having coffee with my mom and sister. When I finally do find my blogging purpose again (and I will), it'll be because it was on my schedule and not my readers' or pinterest's or my sidebar ads'. So there.
Phew. It feels good to get that out! Any other bloggers out there feel my pain? Share it with me! I'd love to know how you refreshed yourself and your blogging! Hopefully I'm not alone, here. 🙂