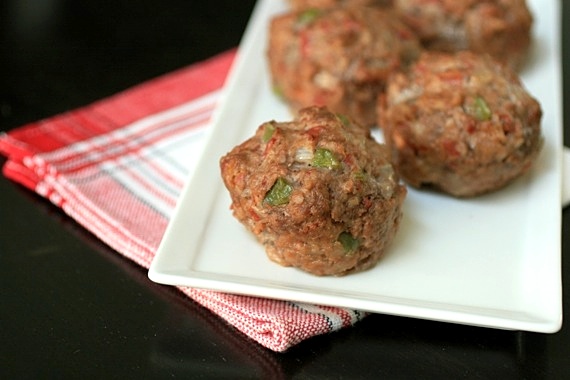 Ok, so these look more like meatloaf…spheres.
I make meatloaf all the time- I love it, Joel loves it, Cassidy loves it….we all love meatloaf. But sometimes it's fun to play around with a classic. What's more fun than having your own personal little meatloaf sphere muffin? I don't know how it is at your house, but at my house, everyone wants the end piece of the meatloaf- it's the piece with the most "crust" on the outside. By making muffins, every single piece is the end piece! Huzzah!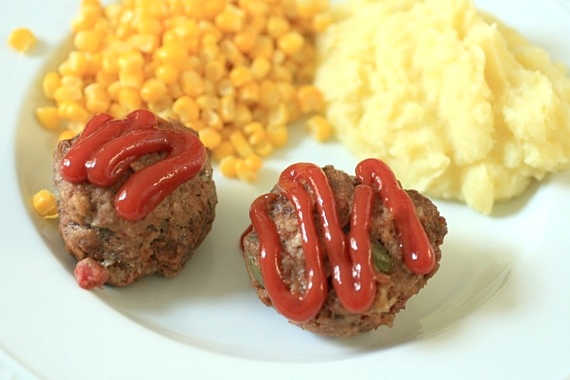 Meatloaf Muffins
1 pound lean, ground beef
1 egg, beaten
1 15-oz. can diced tomatoes
1 teaspoon salt
1/2 teaspoon pepper
1 teaspoon worcestershire sauce
half an onion, chopped
1 green pepper, chopped
1/2 package Saltine Crackers, crushed (probably about 10 crackers or so)
ketchup for the tops, if desired
Preheat the oven to 375 degrees. Grease a muffin pan that holds 12. In a small skillet over medium-high heat, sauté the onion and pepper with a little butter or olive oil until soft; about 5 minutes. Set aside to cool.
In a large bowl, combine the ground beef, egg, tomatoes, salt, pepper, worcestershire, onion and pepper, and saltine cracker crumbs (I find the best way to do this is with my hands). Place some of the meat mixture in each greased muffin cup and bake for about 35 minutes, until a nice crust forms on the tops. Top with ketchup before serving, if desired. Makes about 12 muffins.
Recipe source: Sing For Your Supper original