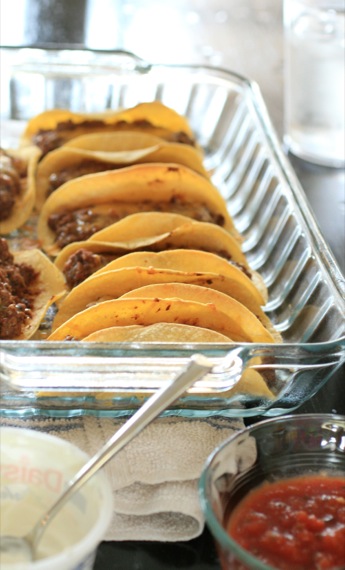 I don't know about you (actually, I'm pretty sure I do), but I get most of my meal planning ideas from Pinterest. On the days I go grocery shopping, I'll sit down and peruse my 'Food' board for ideas as I make my shopping list. I think I have 2 or 3 different versions of this recipe pinned. As much as we love tacos in this house, I'm shocked I haven't made these before now. I love the idea of refried beans mixed in with the meat filling, and I love that this recipe doesn't call for the cardboard-like, boxed pre-made taco shells. You make your own crisp shells right on the oven rack! Genius! These were soooo good topped with a little salsa and sour cream and I can't wait to make them again!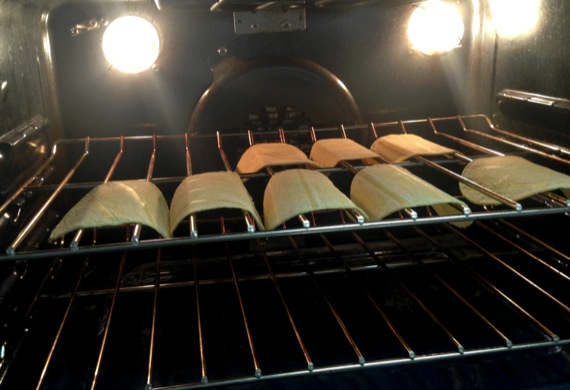 Baked Tacos
2 pounds lean ground beef
1 can refried beans
1/2 cup salsa
1 package taco seasoning or 2 – 3 Tablespoons of homemade taco seasoning
shredded cheese
15-18 corn tortillas
Make the taco shells: Preheat oven to 375. Place tortillas in a damp paper towel and microwave for 30 seconds. Spray each tortilla with cooking spray and carefully drape over two bars of the oven rack. Cook for about 7-10 minutes, until crispy.
Meanwhile, brown ground beef. Drain off any fat and add refried beans, salsa, and seasoning.
Spoon mixture into taco shells and place into a 9×13 pan, standing up. Sprinkle with cheese.
Bake at 400 for 10-12 minutes or until heated through and cheese is melted. Top with your favorite taco toppings (sour cream, salsa, lettuce, etc.). Serves around 5-6.
Recipe source: slightly adapted from One Good Thing by Jillee