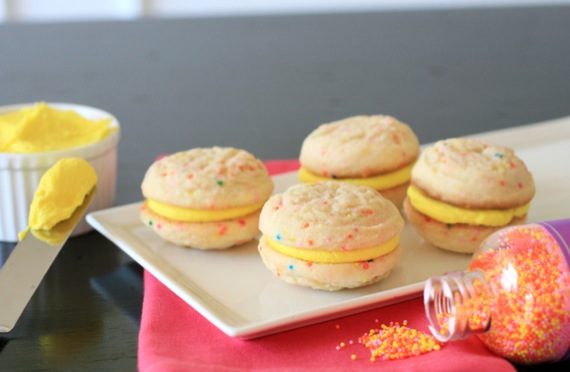 Well, friends, the time has finally come for our little family of 3 to take the plunge and do something highly stressful, chaotic, yet very important and hopefully very memorable…
…take our first vacation. That's right. Very soon, we'll load up our little CR-V and head for the Texas coast. We'll be renting a small condo on the beach for 3 nights and I'd be lying if I said I wasn't totally nervous.
What if I forget the blankie/paci/sippy cups?
What if Cassidy hates the beach?
What if she's not able to sleep in the pack-n-play at night?
What if I don't properly sunscreen her and she gets sunburned?
What if she steps on a jelly fish?
What if a creepy sunken ship washes up on shore and my worst nightmare comes to life??
Ok, so that last one is probably a bit of a stretch, but you get the idea. I'm a vacation-stresser anyway (meaning, I usually ruin our vacations with my constant worrying that something will go wrong, when what I don't realize is that my worrying IS the something that goes wrong.), so naturally when a 19 month-old is involved, I take the stressing to a whole new level. However, I've done a good bit of researching tips for taking toddlers to the beach and I feel like I've got most of my bases covered, at least. So I guess we'll just cross our fingers and hope for the best! 🙂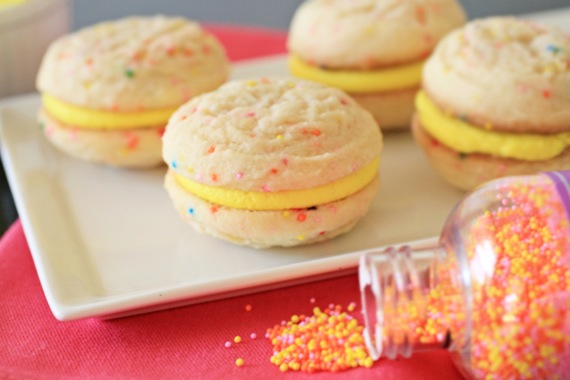 Now, onto these cookies! Who doesn't love sandwich cookies, right? Soft, chewy cookies filled with sweet, buttery frosting? Yes, please! Our music minister and his family recently celebrated 10 years of service at our church- that's a big deal! So the church threw them a little party and the choir volunteered to bake cookies. I didn't want to bake just ANY old cookies for Matt and Caryn, and I decided nothing screams 'celebration' like funfetti, so these funfetti sandwich cookies were born! They disappeared pretty quickly, too, so I guess people liked them! Caryn, Matt- if you're reading this, congratulations again! We love you!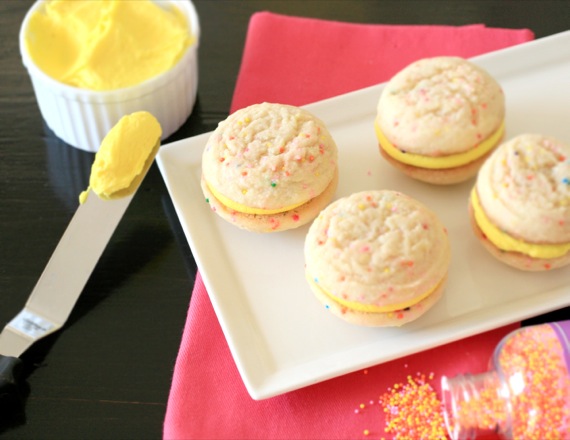 Funfetti Sandwich Cookies
2 cups all-purpose flour
1/2 teaspoon salt
1/2 teaspoon baking powder
1 stick plus 2 tablespoons (10 tablespoons) unsalted butter, at room temperature
1 cup sugar
1 large egg
1 large egg yolk
1 teaspoon pure vanilla extract
1/4 teaspoon almond extract
Colorful sprinkles
For the buttercream:
1 stick unsalted butter, at room temperature
3-4 cups confectioners' sugar
1 teaspoon vanilla extract
1/4 teaspoon almond extract
pinch salt
splash milk (optional)
yellow food coloring
Preheat the oven to 350 degrees. Line two baking sheets with parchment paper or silicone mats.
Whisk the flour, salt, and baking powder together.
Working with a stand mixer fitted with a paddle attachment, or with a hand mixer in a large bowl, beat the butter at medium speed until smooth. Add the sugar and continue to beat for about 2 minutes, until the mixture is light and pale. Add the egg and yolk and beat for another minute or two; beat in the vanilla and almond extract. Reduce the mixer speed to low and steadily add the flour mixture, mixing only until it has been incorporated. Slowly stir in the sprinkles.
Using a teaspoon or small cookie scoop, scoop out the dough, roll into balls, and place on the baking sheets; press down gently to flatten slightly.
Bake the cookies for 8-9 minutes. The cookies should feel firm, but they should not color much, if at all. Cool completely.
To make the buttercream, beat the butter on medium speed until smooth. Add in the powdered sugar a little at a time until desired consistency is reached (it should be fairly think, but easily spread or piped.). Add in the vanilla extract, almond extract and salt. If icing is too thick, stir in a little milk. Gently stir in as much food coloring as you want to make it the desired color of yellow.
Pipe or spread the buttercream on half of the cookies; place other half of the cookies on top to make sandwiches. Makes approximately 17-20 sandwich cookies.
Recipe source: cookie recipe adapted from Dorie Greenspan; buttercream is a Sing For Your Supper original