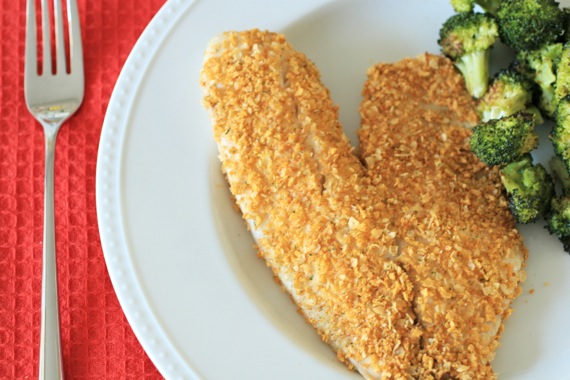 I don't know about you, but when it comes to preparing fish, I usually find myself in a bit of a rut. I do the same things over and over again. For some reason, I have trouble thinking outside the box when it comes to fish. We do LOVE fish, though, so naturally, I was excited to find this recipe. It's unusual (to us, anyway), quick, and super flavorful. Cassidy loved it and Joel and I loved it. This one will definitely stay in the dinner rotation for sure!
Tortilla-Crusted Tilapia
5 tilapia pieces
7 corn tortillas, torn into small pieces
1 teaspoon lime juice
5 or 6 tortilla chips
1 jalapeno pepper, seeded and chopped
1/4 cup cilantro
1/2 teaspoon chili powder
1/4 teaspoon paprika
1/4 teaspoon garlic powder
1/4 teaspoon ground cumin
1/4 teaspoon onion powder
1 teaspoon salt
1 egg, beaten
Preheat oven to 375 degrees.
Put all of the ingredients (except egg and tilapia) in a food processor or blender and pulse a few times, until you have a bread crumb-like consistency. Put mixture in a shallow platter or large plate.
Dip the fish into the beaten egg and then into the tortilla mixture.
Place each one on a greased baking sheet. Bake for 10-15 minutes, until fish is flaky and tender. Serves 5.
Recipe source: Raining Hot Coupons