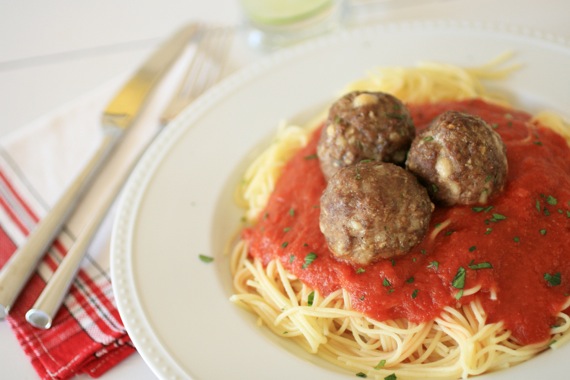 I don't know how you do yours, but when I used to make meatballs, I made them in a frying pan. They sputtered like crazy, I had to turn them 4 or 5 times, then I would still worry about them being done on the inside. And when I was finished cooking all those meatballs (in batches, mind you), I had grease all over my kitchen. Not ideal. And honestly, my meatballs weren't ever that great. They were usually pretty tough from over-cooking. Finally, I got wise! I watched Nigella Lawson bake her meatballs in the oven and the lightbulb went off! Thanks Nigella! For years now, I've been doing them this way. SOOOOO much better!
Oven-Baked Meatballs
1 pound lean ground beef
1/2 cup breadcrumbs
1/4 cup parmesan cheese, grated
1 teaspoon salt
1/2 teaspoon pepper
2 tablespoons fresh parsley, chopped
1 teaspoon worcestershire sauce
1 egg
Preheat oven to 375 degrees.
In a large bowl, using your hands, mix all ingredients until combined. Roll into 1 1/2 inch balls and place on a cookie sheet. Bake for about 20 minutes, until outsides are nicely browned. Serve with spaghetti, noodles, sandwiches, pizzas, soups, and more!
Recipe source: Sing For Your Supper original
**Amy's tip: make a bunch of these and freeze them! They freeze beautifully and it's so easy to grab a few from the freezer on a busy weeknight! Try rolling them into different sizes (mini-size for soups and pizzas and jumbo-size for spaghetti and meatball subs)!