Here is the second of the two kid-friendly recipes I promised this week. I've actually been making these a lot, simply because we get tired of plain old sandwiches for lunch. Joel works from home, so I struggle with trying to think up tasty, quick lunches all week.
I don't make these too often, because, clearly, they're not the healthiest, but when you've got a teething toddler who doesn't have any interest in eating all of the sudden, you'll do what you can to make meals fun. However, I do use the reduced fat crescent rolls for these instead of the regular. Cassidy still hasn't gotten past pulling her's apart and eating the meat and cheese separate- but hey, whatever keeps her happy, I guess. 🙂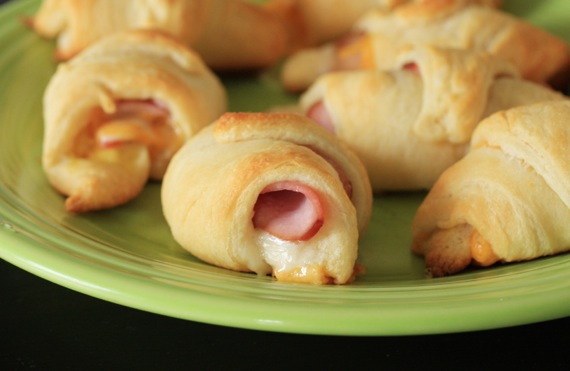 Ham and Cheese Roll-Ups
1 roll refrigerated reduced fat crescent roll dough, such as Pillsbury
mustard
8 slices deli ham
8 slices cheddar or swiss cheese
Preheat the oven to 350 degrees. Unroll the crescent dough and spread a little mustard on each triangle. Lay a slice of ham, then cheese on each triangle, then roll up, starting with the wide end. Place on a baking sheet and bake for about 11-13 minutes, until golden brown. Serves 2-3 as a lunch; or 6-8 as a snack.
Recipe source: Gooseberry Patch's Kids in the Kitchen cookbook