A quick and easy baked pasta dish with cheese tortellini, fresh spinach, and yellow peppers tossed in a creamy, tangy tomato sauce. Perfect for busy weeknights!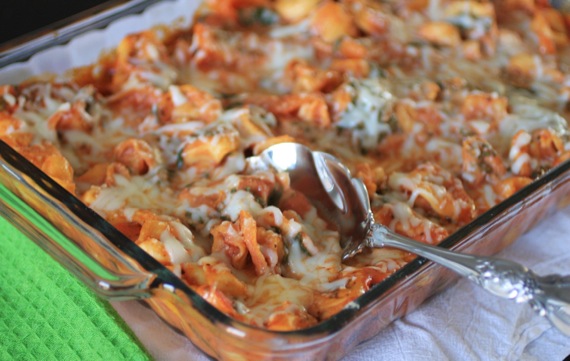 Cassidy is currently pushing through 4 teeth at once. Her incisors, to be exact. She usually teethes pretty hard (congestion, runny nose, rashes, fever, etc), but this time seems to be much worse. She hasn't been acting like herself in days, not to mention, her little nose has been like a leaky faucet non-stop. Have you ever gotten 'eskimo kisses' from a toddler with a snotty nose? Not the most pleasant, but I'll be darned if I deny my sweet baby girl her eskimo kisses!
Anyway, with Cassidy feeling under the weather, I haven't had much time to cook. It's times like these that I love baked pastas. I can pull out a bag of frozen tortellini and toss it with whatever I have in my fridge or pantry and dinner's DONE! That leaves me plenty of extra time for cuddles! 🙂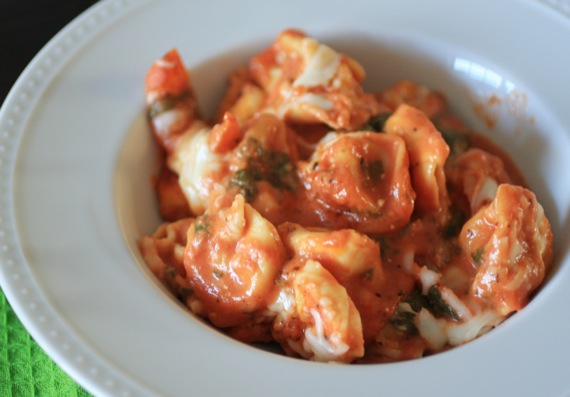 Tortellini Spinach Bake
1 lb. cheese tortellini
2 large handfuls fresh spinach leaves, washed
1 red or yellow bell pepper, thinly sliced
1 26-oz. jar marinara sauce
3 oz. cream cheese, softened
3/4 cup shredded mozzarella cheese
Preheat oven to 350 degrees. Spray a 9×13 inch pan with cooking spray. Bring a large pot of water to a boil and cook the tortellini for about 6 minutes (you don't want to completely cook them). Meanwhile, in a large skillet, heat the marinara sauce, then stir in the bell peppers, spinach, and cream cheese.
Add the cooked tortellini and toss to coat. Spread the mixture in the prepared pan and top with the shredded mozzarella. Cover with foil and bake for about 20 minutes, until bubbly. Serves 6.
Recipe source: Sing For Your Supper original