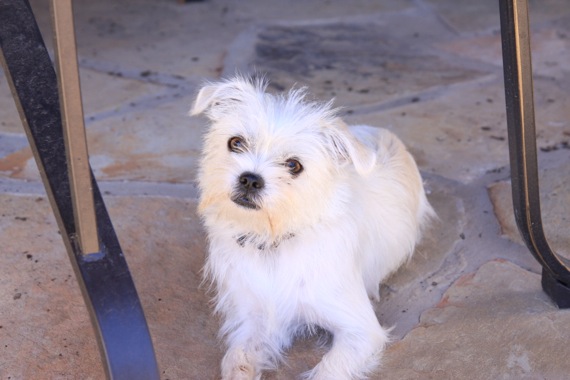 We got a new playmate for Izzy! Meet ZuZu, the newest member of our family! 🙂 She's about a year old and we *think* she's part Chihuahua, part Maltese. Who knows, though.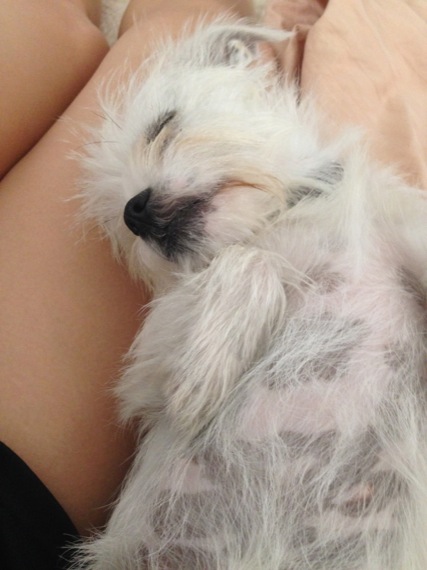 (just look at that spotted little tummy!)
For quite awhile now, I've really been feeling like it was time to adopt another dog. Izzy is such a fun-loving, playful girl, so we didn't feel it was quite right for her to be an only "dog-child". As much as Cassidy loves pestering Izzy, we still thought she could benefit from a non-human friend. As sheer luck would have it, out of the blue, a friend of ours announced she had rescued a little dog from the side of the highway and was trying to find a good home for her. Honestly, ZuZu was nothing like what we thought we were looking for in a new dog, but once I met her, I was convinced she was the girl for us!
It all depended on how she interacted with Izzy and Cassidy (no pressure, Zu!). We brought her home and let the dogs run wild together in the yard. At first, Izzy wasn't sure how to react to all of ZuZu's energy, but she got the hang of it and eventually, they started playing really well together! Success!
We took ZuZu to the vet and got her all checked out, microchipped, vaccinated, and spayed, then promptly brought her home to STAY! Here it is a month later, and ZuZu and Izzy are best buds- they play SO well together (all the time!). She is so gentle and sweet with Cassidy and has our entire family wrapped around her little paw! We all love her so much already and Joel and I are SO happy we were lucky enough to adopt her! Welcome to the family, ZuZu!