Try this easy stovetop version of rich, velvety, homemade apple butter as a spread for toast and muffins, or enjoy it all by itself!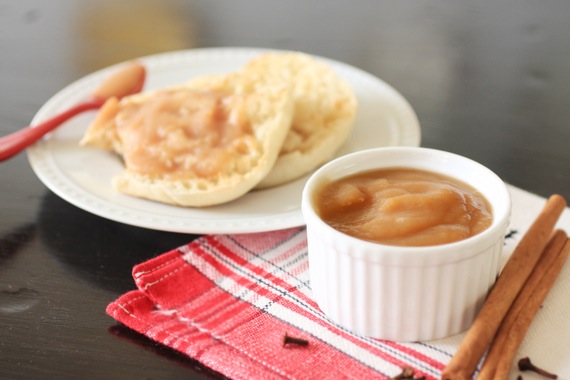 October had just begun, there was a slight chill in the air, and I wanted apple butter. I headed to the grocery store to find my favorite jarred variety. Not only did they not have my preferred brand, but the one kind they did have was insanely expensive. I stood there in the jams and jellies aisle shaking my fist at the apple butter people (whoever they were) and then realized, "apples are on sale! I'll just…..MAKE MY OWN!" [cue hallelujah chorus]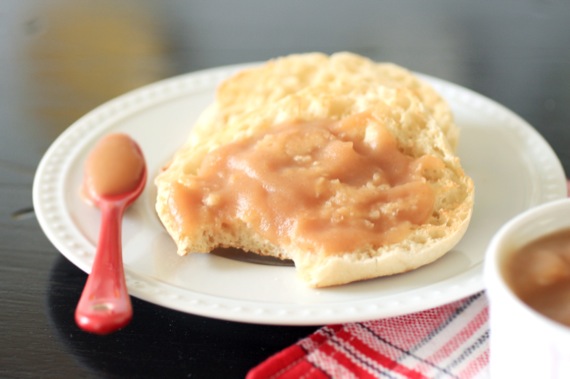 I really didn't want to wait all day for the slow cooker versions (which is basically all I could find online), so I decided to try it on the stovetop and see what happened. Turns out, it works really well on the stovetop! And super tasty- I think the butter really gives it an extra richness that's unbeatable!
Spreadable, velvety, rich apple butter…perfection on a piece of toast or even just by itself!
Stovetop Apple Butter
5 pounds apples, peeled, cored, and cut into chunks (I used Pink Lady, but Honeycrisp or Gala would work too)
2/3 cup brown sugar
squirt fresh lemon juice
1 1/2 teaspoons cinnamon
1/4 teaspoon ground cloves
pinch salt
1/2 stick butter (4 tablespoons)
1 teaspoon vanilla
Combine all ingredients except vanilla in a large pot and cook, covered, on low for 3 hours, stirring occasionally. Apples will be extremely soft. Stir in vanilla.
Using an immersion blender, puree the apples until completely smooth. You could also use a food processor, working in batches. I stopped the cooking process here because I was (very) satisfied with the taste and texture of the apple butter, but you could continue cooking it uncovered on low for another hour or so, if you desire a thicker, darker consistency. Let cool completely. Store in the refrigerator. Makes approximately enough for 3 pint-sized jars.
Recipe source: Sing For Your Supper original