Just thought I'd update y'all a little on my pregnancy. I'm 21 (almost 22) weeks along now- over halfway there! Feeling great physically, albeit a little tired. Joel and I sing in the praise band at church and each week I'm finding it harder and harder to sing without feeling like I've just run a marathon. My diaphragm feels like its being shoved up into my throat, so having enough breath support is tough. The extra hormones are driving me a little batty this time around. One day I'll be feeling great, all sunshine and roses and the next day…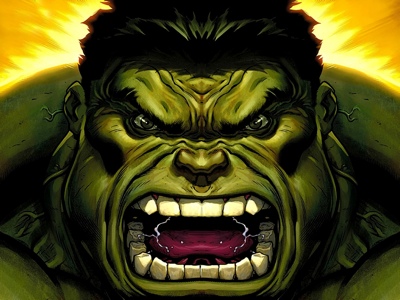 Let's just say, poor Joel has been a saint to put up with all of my craziness lately. Cassidy is starting to understand a little better and talks a lot about the "baby in Mommy's tummy". So sweet.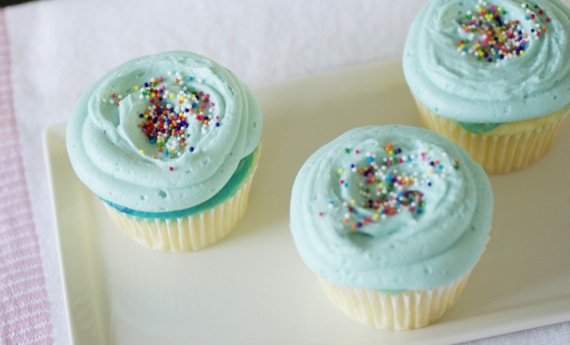 So anyway, the purpose of this post is not only to share with you these yummy cupcakes, but announce that….
WE'RE HAVING A BOY!!!
We went for our anatomy scan a couple of weeks ago and were totally blown away to find out Cassidy will have a little brother! I had made these boy-themed cupcakes months ago in honor oF my friend's soon-to-be baby boy but never posted them; little did I know I'd be repurposing them to announce our own little boy! 🙂
I used my favorite recipe for white cake, reserved a little of the batter, colored it blue, then swirled it into the tops of each unbaked cupcake. It didn't sink down into the cupcake during baking as much I would've liked, but the tops still looked pretty cool before I frosted them (which really ended up not mattering, since the frosting covered that part up. Oh well.). They tasted great, and that's what mattered! Now I think I need a cupcake…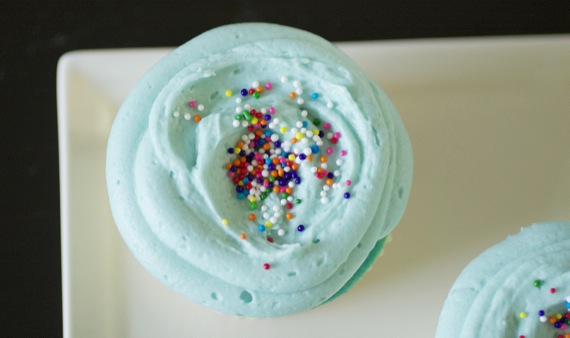 Blue Marbled Vanilla Cupcakes
2 1/4 cups cake flour
1 tablespoon baking powder
1/2 teaspoon salt
1 1/4 cups buttermilk
4 large egg whites
1 1/2 cups sugar
1 stick (8 tablespoons) unsalted butter, at room temperature
1 teaspoon pure vanilla extract
1/2 teaspoon almond extract
Center a rack in the oven to 350 degrees. Fill cupcake pans with cupcake liners.
Sift together the flour, baking powder and salt.
Whisk together the buttermilk and egg whites in a medium bowl.
Put the sugar and butter in the bowl of a stand mixer (or use a hand mixer) and working with the paddle attachment, beat at medium speed for a full 3 minutes, until the butter and sugar are very light. Beat in the vanilla and almond extracts, then add one third of the flour mixture, still beating on medium speed.
Beat in half of the buttermilk-egg mixture, then beat in half of the remaining dry ingredients until incorporated. Add the rest of the buttermilk and eggs, beating until the batter is homogeneous, then add the last of the dry ingredients.
Finally, give the batter a good 2-minute beating to ensure that it is thoroughly mixed and well aerated.
Set aside 1/4 of the batter in a separate bowl. Mix in a few drops of blue food coloring until you reach the desired shade of blue.
Using a small spoon, fill each cupcake liner 1/2 full with the batter. Drop a small spoonful of the blue batter on top and swirl with the back of a spoon or a toothpick to create a marbled effect.
Bake for 15 to 20 minutes, or until the cupcakes are well risen and springy to the touch – a toothpick inserted into the centers should come out clean. Transfer the cupcakes to cooling racks and cool completely before frosting them. Makes approximately 24 cupcakes.
Vanilla Buttercream
1 cup (2 sticks) unsalted butter, softened
6 to 8 cups confectioners' sugar
1/4 cup milk
1 1/2 teaspoons vanilla extract
1/4 teaspoon almond extract
blue food coloring
Place the butter in a large mixing bowl. Add 4 cups of the sugar and then the milk and vanilla. On the medium speed of an electric mixer, beat until smooth and creamy, about 3-5 minutes. Gradually add the remaining sugar, 1 cup at a time, beating well after each addition (about 2 minutes), until the icing is thick enough to be of good spreading or piping consistency. You may not need to add all of the sugar. Stir in a few drops blue food coloring until the desired color of blue is reached. Use and store the icing at room temperature because icing will set if chilled. Makes enough to frost 24 cupcakes.
Recipe sources: white cake adapted from Dorie Greenspan's Baking From My Home to Yours; frosting adapted from Magnolia Bakery