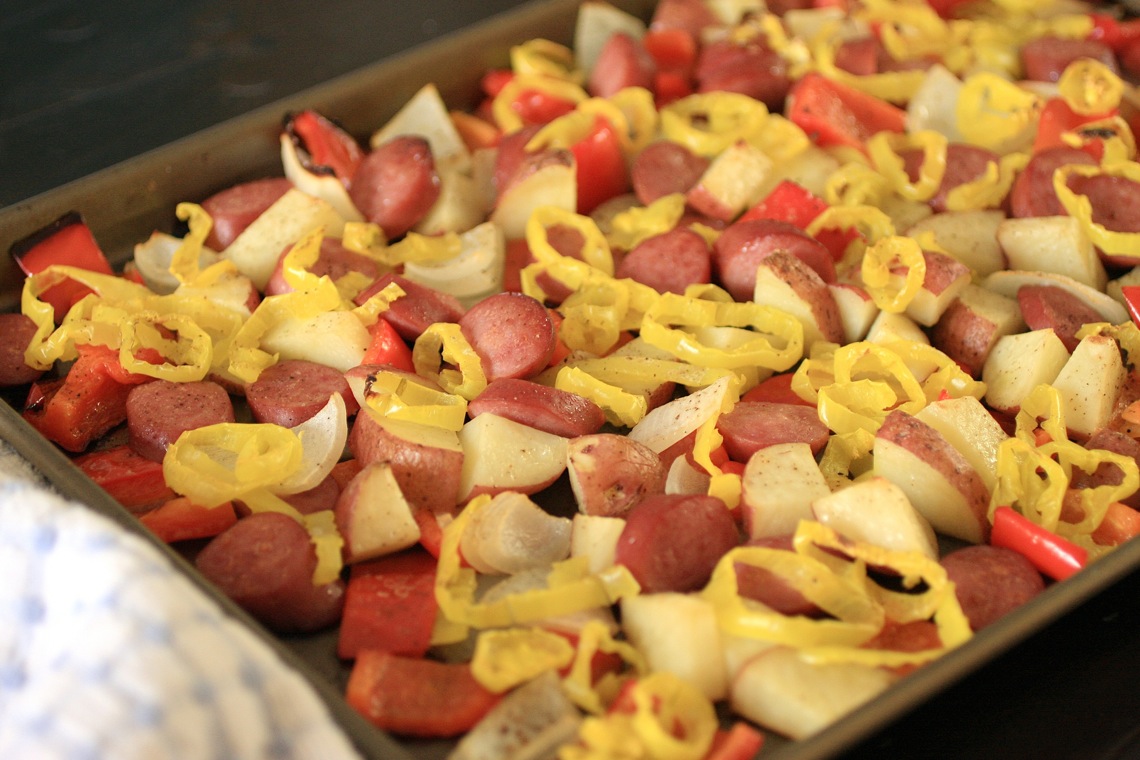 My sister and I like to exchange new recipes we try. In fact, over the years, I've gotten tons of good, simple, delicious recipes from her. This one is definitely a winner! She was telling me about it and when she got to the part about the banana peppers I have to admit I was a little thrown off. Banana peppers are…sorta sour. How on earth would that taste good with sausage and potatoes? But I trust my sister's judgement, so I did it.
What a surprise! This was a GREAT meal- it took no time to throw together and there was SO much flavor! And only one pan to clean- bonus! If you make this, don't skip the banana peppers; they add so much great flavor!
Roasted Sausage, Potatoes, Onions and Peppers
1 pound cooked sausage, such as Eckridge or Hillshire Farms (I use Turkey), cut into 1/2-inch rounds
2 bell peppers, roughly chopped
4 medium-sized red potatoes, chopped
1 onion, chopped
1 jar banana peppers, drained (you can use the spicy kind if you like heat, but I used the mild)
olive oil
salt and pepper
Preheat the oven to 400 degrees. Toss the chopped bell pepper, potatoes, and onion with olive oil and season with salt and pepper. Spread the vegetables and sausage on a large baking sheet in an even layer and top with the banana peppers. Roast in the preheated oven for 35 minutes, or until the potatoes and sausage are crisp and browned. Serves 4-6.
Recipe source: I'm not sure on the original source of this one, but I searched and found one here