(No food post this week. I'm going through a "Life, PLEASE SLOW DOWN!!!" phase right now, so I haven't cooked a decent meal in awhile.)
With the baby due in exactly 5 weeks (um, wow), naturally, Joel and I have been getting the nursery ready. Which means, we had to clean out our "junk room" (great, NOW where am I going to put all this stuff??). My mom and I actually tackled the closet today and in doing so, I found numerous boxes of memorabilia; newspaper clippings, cards, and pictures from my time at college, old birthday cards from family, and lots and lots of pictures, love notes, and cards from the time Joel and I were still dating and engaged. Joel was at a business dinner tonight and Cassidy is at her grandparents' house for the night, so I grabbed a box and began rummaging.
I was filled with all kinds of warm fuzzies sitting alone in the middle of the floor of my soon-t0-arrive baby boy's nursery reading syrupy sweet love notes and looking at pictures. For one thing, they were good for a chuckle or two- I looked like a chubby 12 year old and Joel had way more hair (and *cough* maybe a few less pounds *cough*), but golly, were we happy.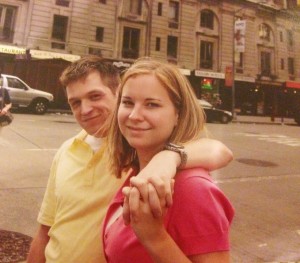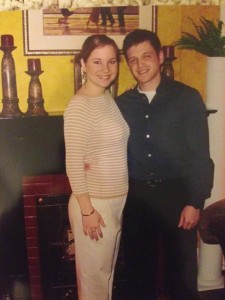 [the night we got engaged; 2005]
Looking at all those incredibly sweet, precious memories and keepsakes made me stop and think- are we the still the same? We held hands tighter, kissed longer, wrote more on our cards to each other, walked closer, talked longer, and literally gazed into each others' eyes…often. "Do we still do…any…of those things anymore?", I asked myself as I sat there alone with my memories. "Pshaw! SURE we do! All the time!" I told myself. But then I started really thinking about it.
We hold hands…sometimes. Maybe on date nights. If we have a long-ish walk from the restaurant to the car.
We kiss each other. Sure. If Joel isn't too buried in his work or I'm not completely tied up with Cassidy at the moment. So…mostly good morning and goodnight. Hey, it counts.
We might have sort of run out of super sappy things to say in our cards to each other on holidays and occasions. All the sentiments are still there, we just blew threw most of them in the first 2 months we were dating. You can only find so many ways to say "I love you". But you know, sometimes a plain old "I love you" is just what I need to hear.
As far as the gazing into each others' eyes thing? Yeah, that hasn't happened in…I don't even KNOW how long. Our honeymoon, maybe? If Joel gazed into my eyes tomorrow, I'd think something was way wrong.
I guess we're not the same anymore. It seems like we don't do any of the sweet little things we used to. Let's face it, there's just no time for hand-holding, eye-gazing, and letter-writing. On most days, we're lucky if we remember to stop and give each other a kiss good morning.
Oh, but I forgot to mention how I look at Joel when I see him rolling around on the floor and horsing around with our precious daughter. He tickles her and makes her literally howl with laughter. And sometimes when we're lying in bed at night, he'll reach over and pat my belly and feel the baby kick. Sometimes I'll make him a big plate of pancakes in the morning and bring it to him while he's working (he works from home). Before every meal, the 3 of us will hold hands as Joel prays. On Mother's Day, he'll sneak out early in the morning to buy me powdered sugar donuts and a thoughtful card. In the summertime, after Cassidy is asleep, we sit out in the backyard with a glass of wine and just talk. Our lives are pretty stinking busy and hectic most of the time, but we manage to make time for just us. He puts his arm around my shoulders at church. I've learned to embrace geek culture ("ANOTHER Marvel movie coming out?? Great, let's go see it!").
So I guess even though we have changed; quite a bit; we've developed a new love language. We may not do all that sappy, syrupy, gushy love stuff we used to do, but we still cherish each other. It might be slightly less dignified (pregnancy ain't pretty, folks), and slightly less shiny and new, but the love's still very much there. We're still selfish and prideful and downright mean sometimes. Luckily, one of the great things about growing older together is that you get better and better at apologizing and realizing there are more important things than weekend plans or someone not doing the dishes. We've known each other for over 17 years and when I look back on all the seasons of our relationship and how we've evolved, shaped each other, adapted, and grown as a couple, it's just…special.
Nope. I don't think we are the same. We're better.