Roasted tomatoes, onions, and garlic blended together and topped with crunchy, buttery sourdough croutons. A must for cold weather!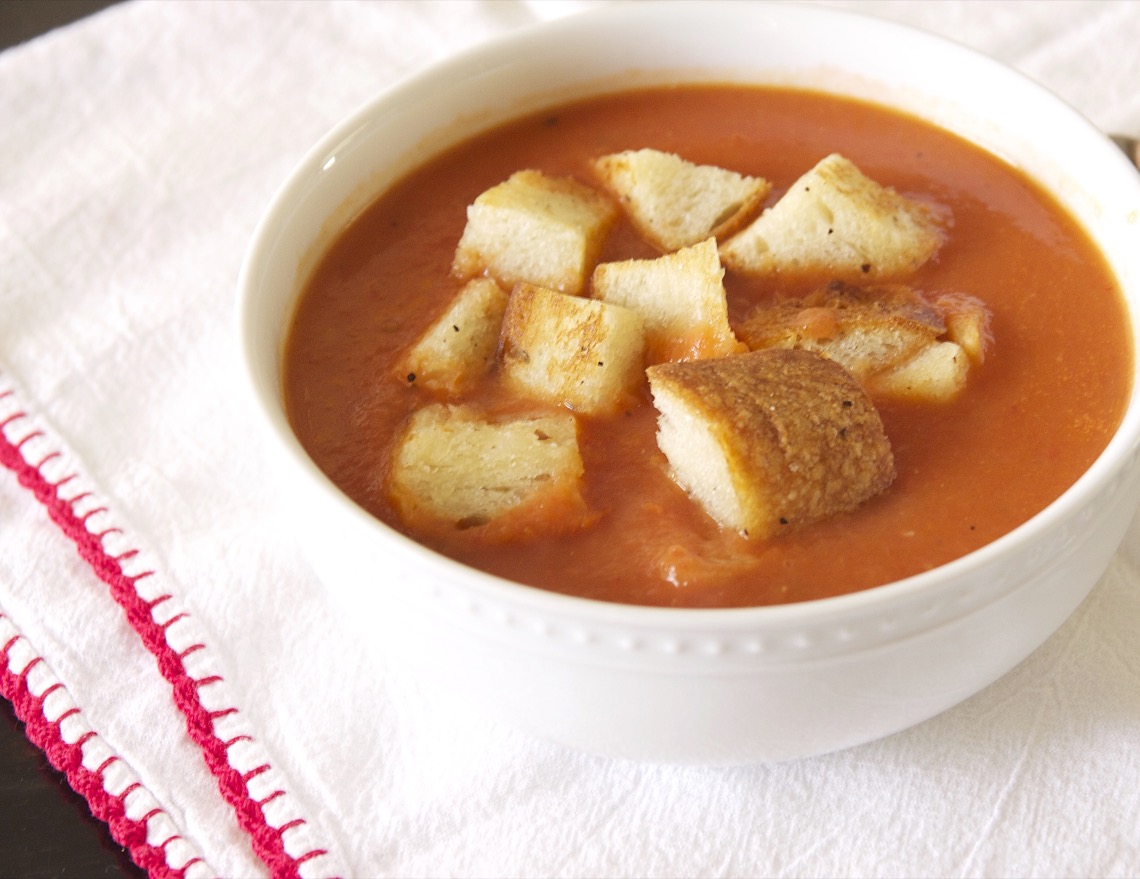 HI THERE!!! My, my, my, what a long hiatus, huh?! Life with 2 kids is honestly a lot harder than I thought it would be. Just about the time I'll get one of them down for a nap, the other wakes up ready to party. By the end of the day, I'm too pooped to even consider sitting in front of the computer when I could be collapsed in bed catching up on recorded tv shows (Blacklist, anyone?). But it's not like we don't have fun. My kids are the coolest, funniest, sweetest little dumplin's any mommy could ask for! Elliott is almost 5 months now. Don't ask me how that happened, since clearly, I only gave birth to him yesterday. Obviously time is playing some sort of cruel trick on me. He is SO. FREAKING. ADORABLE. And Cassidy…don't even get me started. Let's just say she keeps me laughing and/or crying pretty much all the time. 2 year olds, yo.
It's great to be back in the blogosphere. I'm cooking up lots of good stuff and ready to jump in again head-first (if anyone's still out there, that is…)!
Let's talk soup! Soup season is a magical season. A throw-whatever-you've-got-in-the-pot season. Which is perfect for busy moms and dads. Which is why I love it so much. For years I've been wanting to try making my own tomato soup, but never got around to it for some reason. Well here it is, in all its comforting yumminess.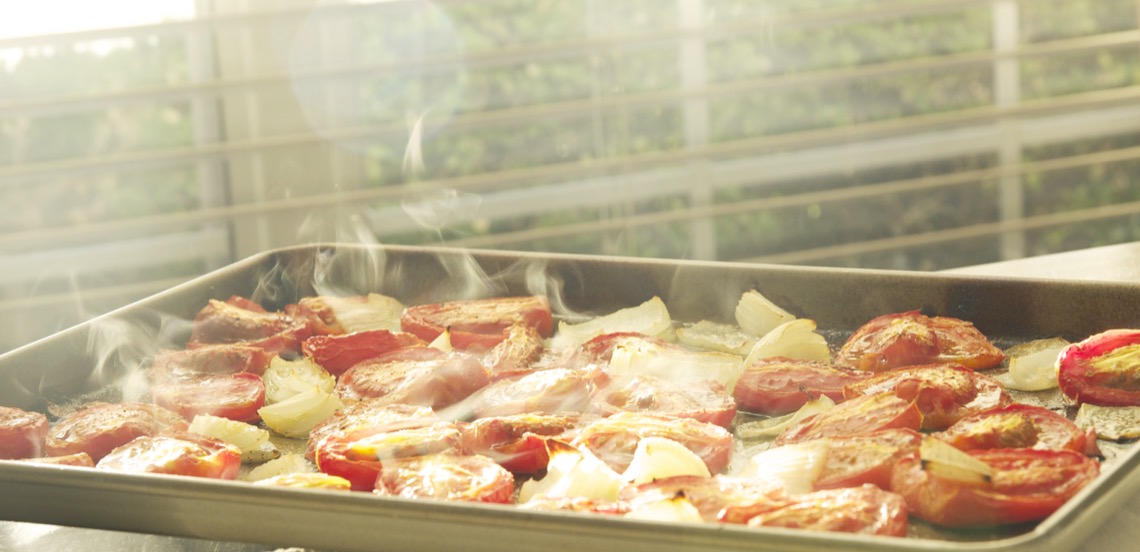 I drizzled roma tomatoes, onions, and garlic with olive oil and roasted them all together for about an hour. Then I blended it all together with chicken broth, a little milk, and some dried basil. DONE. Easy. Those croutons, though. That was my favorite part.  I love crusty bread dipped in my soup, so these croutons were a no-brainer. This soup was loved by all. I highly recommend it!
Roasted Tomato Soup with Sourdough Croutons
Approx. 3 pounds Roma tomatoes, cut into halves, length-wise
1 head garlic
1 onion, roughly chopped
2 cups chicken broth
1 cup milk (you could use half and half if you want- just use about 1/2 cup)
1 15-oz can tomato sauce
2 tablespoons tomato paste
1 1/2 teaspoons dried basil
1/4 teaspoon cayenne pepper
salt and pepper
olive oil
1/2 loaf day-old sourdough bread, cut into 1-inch cubes
2 tablespoons butter
Preheat the oven to 400 degrees. Place tomatoes cut-side up on a baking sheet with the onions and drizzle with olive oil, then sprinkle generously with salt and pepper. Cut the top off of the head of garlic, drizzle with a little olive oil, then wrap tightly with foil, making a little pouch. Place it on the baking sheet with the tomatoes and onions. Roast for about 1 hour, or until the tomatoes and onions start to get a little browned (it may take longer depending on your oven).
Remove from the oven and place in a food processor. Remove the garlic from the foil and squeeze the cloves from the head (they should be very soft, so they'll squeeze out easily) into the food processor. Pulse until smooth. Pour into a large pot and whisk in the chicken broth, milk, tomato sauce, tomato paste, basil, cayenne pepper, and salt and pepper to taste. Simmer for 15 minutes over medium-low heat.
Meanwhile, in a large skillet, melt the butter over medium heat and add the sourdough cubes. Season with salt and pepper and sauté until lightly browned and crisp, stirring constantly; about 5-7 minutes.
Ladle the soup into bowls and top with as many croutons as you like! Enjoy!