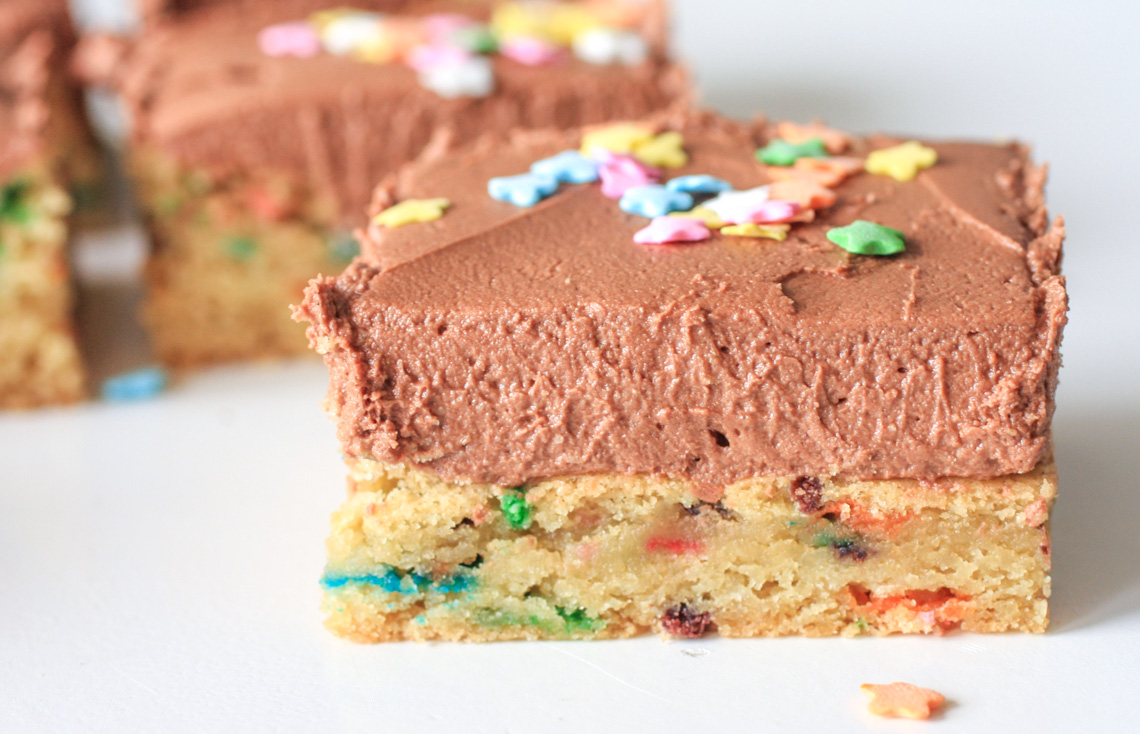 So, Joel finally talked me into watching Game of Thrones with him. He's been a hardcore fanboy for years now and I've always made fun of him for it (breastfeeding dragons? Really?), declaring stuff like that too geeky for me. However, I read fanfic and listen to One Direction…I don't think I'm really in any position to judge anyone's so-called "geekiness". So, I succumbed (I still have to close my eyes for all the nasty bloody parts, and prosthetic peen scenes because…ew.). But here I am, hooked on Game of Thrones.
I'm almost halfway through season 2 and so far it's been pretty good. Granted, there are still some epic "WHAT THE CRAP?!" moments (um, shadow babies…wut??) and some things that I really wish I could UN-see, but against my better judgement…I like it.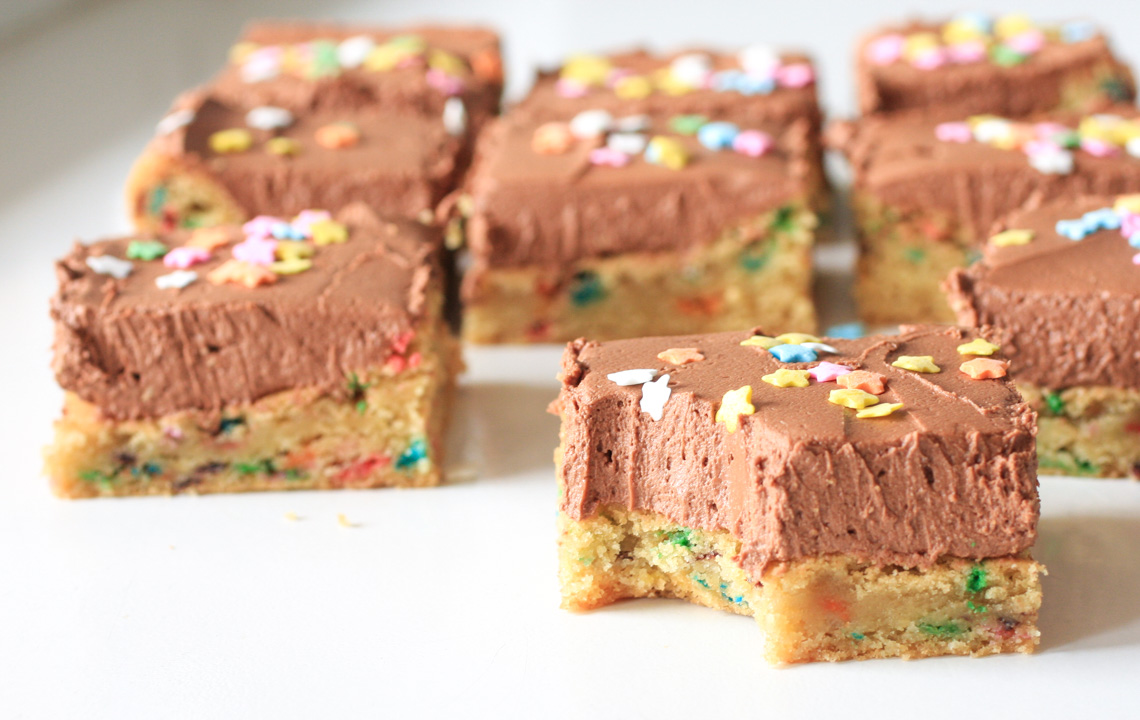 Since we've been having lots of GoT binge-watching sessions after the kids go to bed, I decided we needed yummy treats to go with. The cookies are thick and chewy (but not too sweet) and the frosting is light, fluffy, and perfectly chocolatey. Cassidy helped me make them and we were very pleased with how these came out! Satisfying, sweet, and just plain FUN.
I think these would bring a smile to even King Joffrey's face (little craphead…).
Sugar Cookie Bars with Fluffy Chocolate Frosting
1/2 cup unsalted butter, at room temperature
3/4 cup granulated sugar
1 large egg + 1 egg yolk
2 teaspoons vanilla extract
1 and 1/2 cups all-purpose flour
1/2 teaspoon salt
1 teaspoon baking powder
1/2 teaspoon baking soda
1 and 1/2 teaspoons cornstarch
1/2 cup rainbow sprinkles (not nonpareils)
Chocolate buttercream:
1/2 cup unsalted butter, at room temperature
1/2 cup semi-sweet chocolate chips, melted and cooled
pinch salt
2 cups powdered sugar
1 teaspoon vanilla extract
For the bars: Preheat oven to 350 degrees. Line a 9×9 square baking pan with aluminum foil, making sure to leave enough overhang on the sides and set aside.
In a large bowl using a hand-held mixer or stand mixer fitted with a paddle attachment, cream the softened butter for about 1 minute on medium speed, until smooth and pale. Add the sugar on medium speed until fluffy and light in color. Beat in egg, egg yolk, and vanilla. Scrape down the sides as needed.
In a medium bowl, whisk together the flour, salt, baking powder, baking soda, and cornstarch. With the mixer running on low speed, gradually add the dry ingredients to the wet ingredients. The dough will be thick. Once combined, gently fold in 1/2 cup sprinkles using a rubber spatula (or by mixing on low speed).
Press the cookie dough evenly into the prepared baking pan. Bake for 25-26 minutes or until very lightly browned on top. You want the cookie bars to be extra soft, so careful not to overbake. Allow the bars to cool completely on a wire rack at room temperature before frosting. The center will slightly sink – that's normal.
For the frosting: With a hand mixer or a stand mixer fitted with a paddle attachment, beat the butter on medium speed for about 1 minute, until smooth and pale. Stir in the melted, cooled chocolate, salt, and vanilla extract. Slowly add the powdered sugar a little at a time, scraping down the sides of the bowl as needed, until the frosting reaches a fluffy, spreadable consistency. If you like your frosting a little thicker or thinner, use more or less powdered sugar. (Makes about 1 1/2 cups)
Spread the frosting over the cooled cookie bars, then cut into 12 squares.
Recipe source: cookie bars from Sally's Baking Addiction; frosting is my own recipe